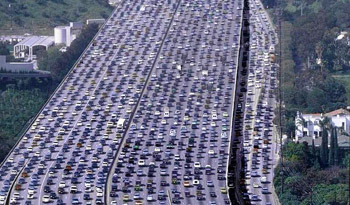 - The Longest traffic jam ever occurred in France on the 16th June 1980. It stretched from Paris to Lyon, a distance of 109 miles (176 km).





- Police in the city of Monrovia, Liberia have controlled the flow of traffic by hand since 1990 when the traffic light system stopped working.





- The first land-speed record was conducted in 1890 by Count Gaston de Chasseloup-Laubat, or the "Electric Count" as he was later known. Using his electric car he achieved a top speed of 39.24 mph (63.15 km/h). The record only stood for a few days before it fell to a slightly faster electric car. Less than 100 years later (99 to be exact), Thrust SSC became the first vehicle to break the sound barrier. Now that's progress!






- Taxis have been operating in the city of London since 1636. Back then there were only 50 taxis serving the entire city.





- Vehicles sitting in traffic jams around the world use up to 5.7 billion gallons (26 billion litres) of fuel each year.





- During World War I, 6,000 French troops were transported to the First Battle of the Marne in Taxis. It took 600 Paris Taxis to do the job. They were ordered by General Joseph Gallieni, military governor of Paris at the time. The Allies won the battle.








- The average American spends around 100 hours a year commuting back and forth between work.





- Due to the increasing number of electric and hybrid powered vehicles, firefighters and other emergency services personnel are having to undergo special training which teaches them how to safely manage the high voltage power sources which may be exposed and extremely dangerous after a vehicle accident.





- The World's longest car was a specially constructed limousine which was built in California. Where else? It was 100 feet long (30.5 metres), and featured a swimming pool and king-size waterbed. When the pool was covered over it could also carry a small helicopter at the rear!








- The Pan-American Highway, which stretches from Circle, Alaska to Puerto Montt in Chile - a distance of 16,031 miles (25,800 km), is the longest highway in the World.






















All text © diseno-art.com 2010