Interview with a Transport Design Student

Anyone considering starting a degree course in transport or vehicle design, or even product design should read through this interview we had with Andrew Varnish back in 2006. Andy, 20, was a second year transport design student at Coventry University. Coventry University Design School offers one of the best transport design courses in the world. Graduates of the Bachelors and Masters degree courses hold some of the top positions in automotive design throughout the world. That wasn't a plug, it's the truth.

Prior to starting the degree course Andy did a one year BTEC course, also at Coventry, in Foundation Art and Design. This basic course gives a good grounding and introduction to the world of design. Many students complete a foundation, or similar course prior to starting a degree, often it is a requirement.





What course are you doing?
Iím doing a transport design course at Coventry University, there are several options available for what route exactly you would like to take in the automotive industry ranging from a more engineering vehicle design degree to an outright styling degree. The main course that Coventry offers is a 4 year MDES (Masters in design) of Transport design. To achieve a place on this degree you have to be the complete package within design, not just vehicles, and attain a 60% average overall from the 8 compulsory modules. Most people do the BA (Bachelors) automotive degree which is more automotive based and if they wish do a masters after they may do a year at Coventry or move to a different university for a different atmosphere etc. Their is no better degree, every option has its positives, generally the students portfolio tells the story.


What were you expecting?
The foundation to me was simply a stepping stone to find out if I really wanted to spend around 5 years in Coventry to hopefully fulfill my ambition of becoming a transport designer. Doing a foundation is the best thing a budding designer can do, it opens your eyes to completely new ideas and directions for design.
My expectations were that the foundation would be a very relaxed atmosphere. Turning up on the first day to find a brief of six A1 works of all different media studying flowers to be completed by the Friday was alarming but very much so worth it. In that first week alone I learnt so much. Developing onto the main course was alarming also, the reality of how many people do the course, people from all over the world come to Coventry to do this course. The first week was a lot of waiting around and we had a few scares from our tutors saying that 9 people did not get a place because of each one of us, then to say only about 3 people a year actually become automotive designers. From this instantly a few faces began to disappear, but developing on the course really does make you understand how many opportunities there are in the automotive industry. Everyone wants to become an exterior designer at some point, but it truly is not the end of the world, design is a team effort and a huge 7 year effort at that.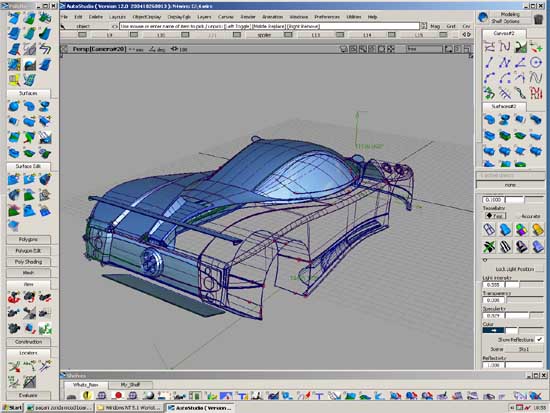 How have your design views and inspirations changed?
My views have changed dramatically from high school, I am now very much so into retro and retro futurism design works, I have never been too involved with the technical side of cars, itís always been about styling, but performance and heritage creates character. Making a car look like its going 100mph when standing still, making it look solid and strong or giving it road presence is the designerís task. Initially I used to sketch and design cars, this is useless, to design a car for a specific company like BMW, Renault etc. is the way forward, each company has specific design cues which a designer needs to adhere to. Inspirations tend to range from organic forms to architecture.





How does a subjective course like design differ from more traditional degree courses?
Transport design degrees at Coventry everyone will agree that it is a way of life and not a degree, every degree is a hard task to achieve. Design has the extra elements of quality, style, technique, CAD understanding etc. Along with the normal reading of the subject, keeping up to date with the development of technology is a big factor. Donít get me wrong I admire anyone for achieving a degree, the problem with transport design is it is in such high demand and everyone who does the degree will admit their love and desire towards cars or design, its not a case of how much we will earn when or if we become a designer its a case of how much you want a car to be on the road that you designed. The benefit of a design course is that you donít slug at the books for months on end to have a one hour test at the end of it that means everything, design is coursework based, if you have an off day it doesnít matter, design is development. Creating your own style is a huge factor, what makes you different from the next guy or girl, set the curve donít follow it.


What do you know now you wish you knew before starting?
In a way Iím glad that I started my time at Coventry with a fresh head towards design, everyone develops differently. My general technical knowledge of cars and design is far greater than when I began the course, it took me a considerable time to research into the history of cars and design, knowing where a company has been and where it is going is important to learn so that you can design to your predictions and what a company needs to fulfill the brand.


Car design is a highly competitive business. Does this start at University, and if so how does it effect friendships within the course?
This I feel just comes natural to some characters, some people can be ultra competitive, selfish and hard, others friendly. The people I have as my friends on the course we tend to have a friendly competitive spirit, like recently I just got a better grade than a good friend of mine and he just said he will get me next time, which is nice. But others just run people down at all costs, I imagine it is the same in the industry, we are all competing at the end of the day. I feel be as good as you can be, be your own person, donít run other people down to make yourself feel bigger or better and if someone does it to you just rise above it, it will really piss them off.


What are some of the qualities YOU think are essential to becoming a successful car designer?
In my view to become a successful designer you have to create yourself as an individual always thinking, looking, listening and learning. Being open is a great asset. Itís boring to be part of a crowd.


What is the worst, or hardest, part of the course?
I can't think of much, I enjoy most elements. We are currently in the process of learning Alias studio works 12 on top of other modules, I'm finding this to be time consuming and it seems to take an extremely long time to understand the smallest things, but for presentations etc. creating a complete virtual model will be a great advantage. Writing up research and referencing is very time consuming, I would say that is the worst part of the course.


What is the best, or most rewarding, part of the course?
Having the confidence and self belief to stand next to your work and present it in front of your peers, to see all the hard work pay off. Comments about peoples work can be very open and varied so to get a compliment is a great feeling.


What advice would you give to someone considering starting a course in design?
Be sure what field you want to work in, donít ever look at the money look at what you enjoy, well thatís my view. I would rather enjoy my job earning less, than be in a job I dislike. For instance in my case I know the chances of me becoming an automotive designer are slim, but the thought of a car on the road I designed means a lot more to me than living in the designed world of someone else.


'Designers' sometimes get a bad reputation for being unrealistic dreamers who like to use big words and show off. Do you find this to be the case?
In my experience so far I have only met one designer and he seemed like a nice guy, if I am honest I was expecting an arrogant attitude towards me as a student but he had a lot of time for me.

Conceptual design is meant to be out of this world and show the potential of the brand and the brands direction. I like to be a dreamer, the norm is to boring, for instance look at the war of the worlds mentioning lasers when they were not invented. From that book the insight and desire to create that started the process, so today we have lasers. A world without dreams would be static.

I wouldnít say all designers use big words, personally I hate it when people make something sound more important, harder or interesting through a bunch of bull, tell it straight.


How much time and effort do you have to put in compared with other courses? Does it have any effect on social activities associated with university life?
I would say any degree is a hard achievement, but within transport design the competition starts as soon as you walk through the door, I wish it wasnít that way but it is. This creates a problem as you have to be as good as the next guy not just at your university but the guy whoís already in the industry, what can you do to be different and make a difference. I suppose this is why their are a high percentage of drop outs. At the end of it I have a degree and hopefully a job, if not I still have a degree that opens other doors I never knew about.

Uni life is good, just have to work hard and play hard.


Where would you like to be in ten years time?
Over the past 3 years a lot has changed so who knows where I will be in 10 years time. In an ideal world I would be working for a major player in the transport industry.

My main aim in life is to create a change, if it is away from the transport industry, fair enough, but hopefully I will fulfill my dream of having a car on the road that I contributed towards. In the modern design world designers are getting younger, take for instance Mathew Humphries, a 2004 graduate from Coventry University now having his Morgan Aeromax concept in development for addition to the Morgan line up.




Related articles:
How to become a car designer
What makes a great car
Where do ugly cars come from?
Retro or Rehash?
21st Century muscle car race
Green car production facilities
Ascari Race Resort
Artificial intelligence

Related sections of the site:
Sports cars
Strange vehicles
Concept cars




Diseno-art.com 2005 - 2010