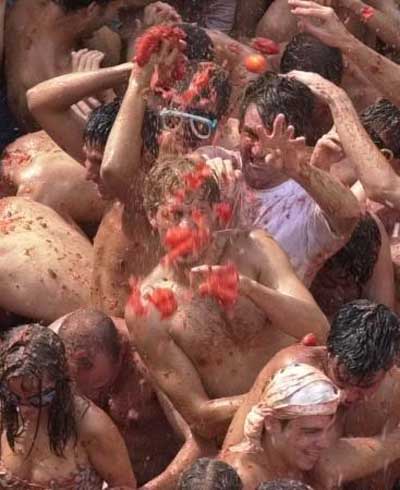 Participants in the centre of the Tomatina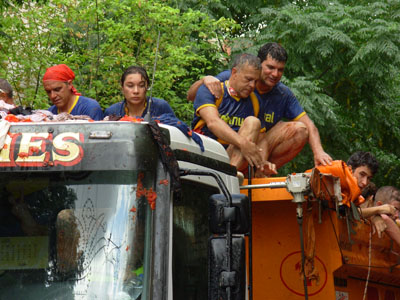 One of the tomato carrying trucks after passing though the streets and dropping off its load of tomatoes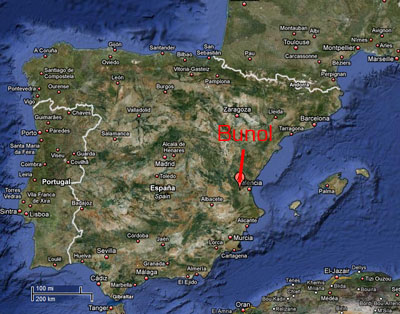 Location of Bunol in Spain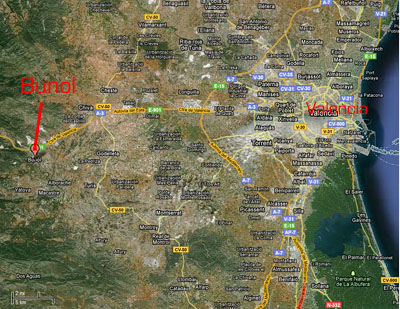 Location of Bunol in Valencia Province





History and Background
Thirty miles from the Spanish city of Valencia is the town of Buñol. It is famous for hosting the worlds largest food fight. During 'La Tomatina' a 'batalla' takes place at the end of a week long celebration. The Tomatina itself is held on the final Wednesday of every August. At 11.00 am a single firework explosion heralds the start of the battle. One hour later a second firework is fired to signal the end.

It started out in the 1940's when a group of friends started a food fight with tomatoes. The exact circumstances are unknown but it soon spread to passersby until it became a full blown tomato war.

From that day on, every year thousands of people from all over the world flock to Bunol to hurl over 100 tons (220,000 lbs) of tomato at each other. The size of the event is helped by the fact Bunol is easily accessible by both road and rail.


Safety and Handy Tips
While the Tomatina is generally a great deal of fun there are some things you should be aware of before you go.

- Some sort of eye protection is extremely useful as the acid in a tomato stings the eyes, and also a tomato at full speed in the face is not painless! An old swimming mask or goggles are ideal.

- Don't wear a Tee-shirt you are not prepared to lose. Depending on where you're standing there's a very good chance it will get ripped off you, this is almost always done in good humor and with a smile, after the guys will often hand you back your shirt and shake your hand. While this is usually constrained to just the men it's not unheard of for some girls to get their tops ripped off so a sturdy sports-bra underneath or something similar is a very good idea. Also as a word of warning there is a small minority who use the close proximity of people and chaos as an excuse to grab in inappropriate places.

- Avoid bringing valuables into the main combat areas as there's a chance they could either fall out of your pocket or bag or be stolen. Also you will spend the entire time keeping an eye on your stuff rather than getting stuck into the fight! If you're bringing a camera I'd advise you to take a cheap old one which you don't mind being damaged. As long as the memory stick survives you'll still be able to see the pics afterwards.

- In the narrow Spanish streets there is not much room to maneuver. Imagine a rugby scrum, that's 16 big guys pushing at full force against each other. Now imagine that with thousands of people blinded by flying tomatoes. If you suffer from claustrophobia or are less than sturdy try to stay to away from the busier sections as in parts it almost turns into a stampede. Amazingly despite the mayhem there is almost never any violence at la Tomatina as everyone is there to have a good time.

- An old pair of trainers is far more preferable to flip-flops or sandals. Trainers will protect your toes, and are far less likely to come off. If they do fall off there's a good chance you will not have room or time to retrieve them!

- When the trucks carrying the tomatoes come down the road, get back. They do move slowly and there are stewards around the trucks but they do pass very close by.

- You can drink alcohol, and in fact most people do, but if it's in a glass bottle the police might ask you to put it in a plastic cup or bottle.

If all this has made you think twice then don't worry as the day itself is great fun even for the spectators. Plenty of food, wine and beer is on offer in the bars and cafes of Bunol. Afterwards you can watch all the participants come down the road drenched in water and covered in bits of tomato.


After The Tomatina
Aside from these things to be aware of it's exactly what it says on the tin. One massive food fight and lots of fun. Not for the faint hearted though. At 12 o'clock, when the Tomatina is finished you can either make your way to the bars and cafes or back to your accommodation.

On many of the side streets the friendly inhabitants of Bunol will help clean you down by spraying you with a hose. Some even dump buckets of water off roof tops and balconies onto the people below.