The Mercedes Biome concept was the vehicle which Mercedes-Benz's designers came up with for the 2010 Design Challenge held by the LA Auto Show. The brief for the 2010 competition was to design a car which weighed less than 1,000 lbs (454 kgs), and could carry four people in safety and comfort.
The Mercedes Biome concept is an extremely futuristic design which is not built, instead it is grown from a seed. Here is Mercedes' fictional story which explains how the Biome concept could be produced.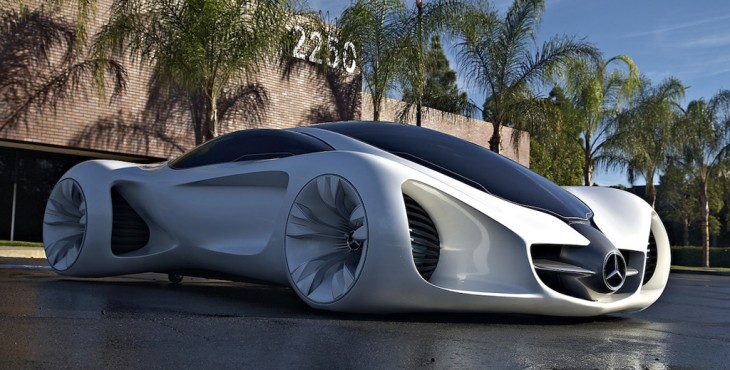 The Biome: The Mercedes-Benz Biome is an ultralight vehicle that utilizes technologies from nature to achieve unparalleled efficiency and seamless integration into the ecosystem.
Mercedes-Benz Symbiosis: Mercedes-Benz Symbiosis is a system in which the vehicle becomes part of the ecosystem like the leaves of a tree. Symbiosis vehicles collect energy from the sun and store it in chemical bonds, in the form of a fluid called BioNectar4534. Mercedes has also developed technology to retrofit trees with receptors which can harvest their excess solar energy into BN4534. This creates an incentive to plant more trees and collect more energy, while also helping the ecosystem. The vehicle can be composted after its lifespan is complete or used as building material.
Partnership With Nature: The Symbiosis vehicle forms a seamless part of the ecosystem through green technologies. Most of the energy used to power the vehicles comes from the sun. It is stored in a lightweight grown material called BioFibre. It is much lighter than metal or synthetic composites, but stronger than steel when mature. It is grown in the Mercedes-Benz Nursery through proprietary DNA. The customer's specific desires are genetically engineered into the Star and the vehicle grows when this combines with the Seed capsule.
Mercedes-Benz Nursery: All Mercedes-Benz Symbiosis vehicles are grown in an ecologically sustainable nursery, using primarily organic materials.
Growth from Two Seeds: The interior of the Biome grows from Mercedes-Benz DNA in the front star, when it fuses with the seed. The exterior grows from the rear star, creating the shape. The wheels are grown separately from four unique seeds.
Technologies from Nature: Mercedes Benz Symbiosis vehicles release pure oxygen into the environment, helping urban areas to meet air quality standards.