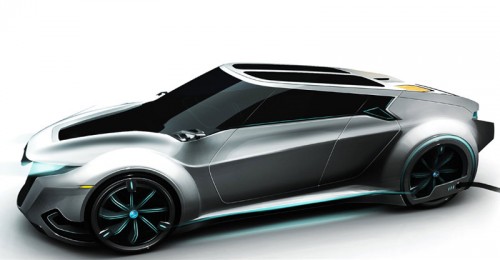 The Saab/Nespresso concept isn't the first vehicle to use non-automotive products and brands as part of its design inspiration. But it is one of the more unusual combinations – Swedish car manufacturers and Swiss coffee-machine makers don't usually have too much in common. The concept was developed by Eric Leong, a final-year Transportation Design student at the Umea Institute of Design in Sweden. The project was sponsored by Saab.
The Saab/Nespresso Concept, despite its odd influences has turned out rather well. The extremely raked roof line might not be ideal for rear-seat  passenger head room, but it looks great. The sloping roof also helps disguise the versatile cargo space at the rear. This storage area is one of the areas in which Nespresso's influence can be seen, as the multiple drawers and opening lids were inspired by those found on some of the company's coffee machines. The flat deck at the rear can be used to hold larger items with the help of integrated cargo straps. Or if you prefer a more relaxed life, cushions can be placed on the rear deck to provide an impromptu seating area.
One of the Saab/Nespresso concept's more innovative features are the "Digital Projection rims". Basically any wheel design you want could be downloaded from Saab, and then projected onto the car so you can change your wheel rims as often as you change your ringtone. Quite how it would work in the real world is another issue, but the idea is interesting nonetheless.
Helping to top up the car's wheel projection system, along with all the other electronics, are a pair of solar panels located on the roof.
As always with these independent concepts – and especially with Saab's current predicament – the Saab/Nespresso concept won't be making its way into the showroom.
Source: ericleongdesign via carbodydesign.com