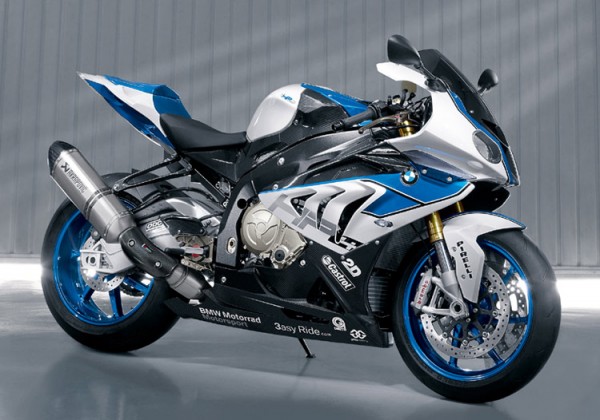 With the HP4 BMW Motorrad are introducing the lightest 4-cylinder superbike in the 1000cc class. The BMW HP4 is based on the BMW S 1000 RR, and that means it gets the same 193 horsepower in-line 4-cylinder engine. Where the BMW HP4 differs is in the details. While the engine remains almost identical it has been tweaked to provide slightly more mid-range torque. In addition it's also designed to offer the full 193 hp regardless of whether the bike is in "Rain", "Sport", "Race" or "Slick" modes. The HP4 is also lighter overall thanks to new wheels, a titanium exhaust, lighter sprocket carrier and lighter battery. An optional "Competition Package" for the HP4 adds some extra carbon fiber parts including a long, closed engine spoiler and tank cover, an adjustable rider footrest system, folding brake and clutch levers, as well as wheels finished in blue metallic and a sponsor sticker kit.
The BMW HP4 isn't just lighter though. It's also smarter. It comes standard with an active, electrically-actuated Dynamic Damping Control system and a torque-adjusting Launch Control system. Dynamic Damping Control (DDC) is a system which allows dynamic damping adaptation of the upside-down fork and spring strut to suit the road condition. The damping is rate is regulated thanks to an array of sensors and electrically controlled regulation valves.

The launch control system of the HP4 helps the bike accelerate from a standing start as quickly as possible, without the rider having to focus quite so much on getting the right balance between acceleration and keeping the front wheel in contact with the ground. The HP4′s launch control system is setup so that engine torque is immediately reduced as soon as it detects the front wheel start to lift.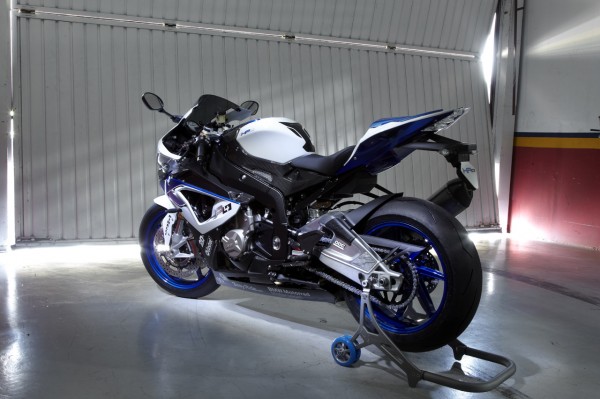 The BMW HP4 also features a four mode ABS system. This offers different settings depending on conditions and tire choice. For wet surfaces ("Rain"), roads ("Sport"), race track with supersports tires ("Race") and race track with slicks ("Slick"). All fairly self explanatory really.
Visually the BMW HP4 gets a few subtle upgrades over the S 1000 RR. In addition to the single-seat look there is a dual-section engine spoiler – elongated as compared to the RR – and a tinted windshield. The small LED turn indicators are discreetly integrated into the bodywork and a laser-engraved HP4 logo with serial number sits proudly on the upper fork bridge.
BMW haven't yet announced the HP4′s price. But you can be sure that such a serious bit of race-ready kit will carry a hefty premium over the standard S 1000 RR.
Source: BMW