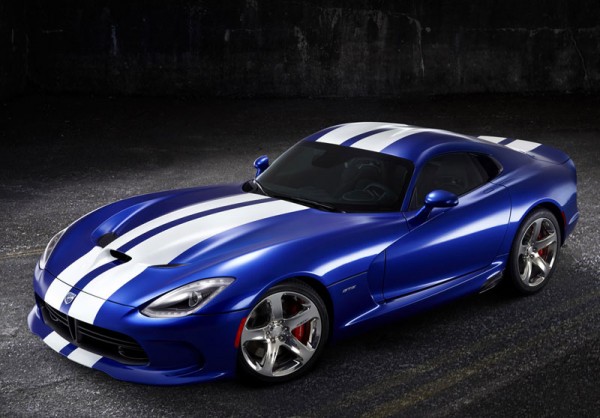 Here's a little fact I was unaware of until this morning. All previous generations of the Viper were painted blue and carried white stripes for their launches in 1996 and 2006. SRT has decided to continue that tradition for the all-new 2013 Viper, and so the aptly-named Launch Edition gets the same white-on-blue color scheme. Or in other words, the BEST color scheme.
The 2013 SRT Viper GTS Launch Edition will get its moment later today when it is unveiled at the Quail Lodge as part of "The Quail: A Motorsports Gathering" event. Then on Saturday, August 18th, and Sunday the 19th, the SRT Viper GTS Launch Edition will be displayed on the Concept Lawn at the Pebble Beach Concours d'Elegance.

"Designed with Viper loyalists in mind, the 2013 SRT Viper GTS Launch Edition model brings back the classic paint schemes that have adorned all previous Viper coupe launches to help us celebrate the return of our brand's flagship performance machine to the supercar market," said Ralph Gilles, President and CEO – SRT Brand and Motorsports and Senior Vice President – Product Design, Chrysler Group LLC.
Aside from the paintwork the 2013 SRT Viper Launch Edition features a few other unique features which mark it out. The wheels are  polished five-spoke forged alloy units that are designed to mimick those of previous Viper launch models. "Stryker", the Viper's new logo also makes his debut, and the badges found on the hood and steering wheel add to the exclusivity, with a blue background replacing the grey found on all other 2013 SRT Vipers models.
The interior of the 2013 SRT Viper GTS Launch Edition features a numbered dash plaque which matches the build sequence number to the vehicle identification number. Black Laguna leather with contrast stitching is found throughout, covering the seats, door trim, instrument panel, steering wheel, grab handle, shift knob and center console. Alcantara covers the headliner and the normally white bezels are finished in Satin Silver.
Production of the Launch Edition will be limited during the first run of 2013 SRT Viper GTS models at Conner Avenue Assembly Plant in Detroit, MI.
Source: SRT