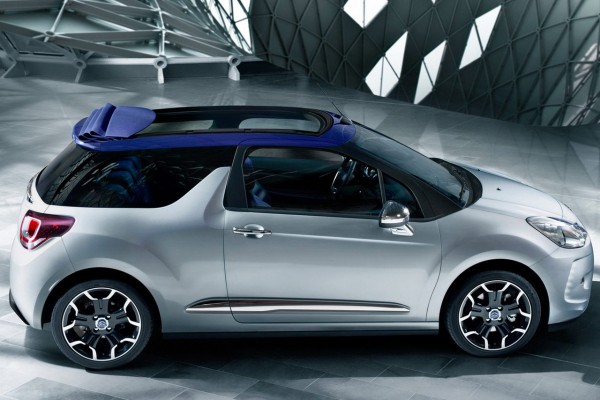 At the 2012 Paris Motor Show in September Citroen have announced they're going to unveil the DS3 Cabrio. The DS3 is one of the funkier hatchbacks on offer in Europe, and its quirky but sporty design has won it several industry awards. The DS3′s contrasting-color roof is one of its more distinctive design features. Thankfully its something that has translated rather well into the cabriolet version.
Like the Fiat 500C, the DS3 cabrio isn't what you typically expect when you think of a convertible. Instead of the whole roof folding back leaving nothing north of the top of the doors. On the DS3 Cabrio only the center section of the roof folds back. Essentially like one giant sunroof. Still, it should be enough to let the wind rustle through the young driver's overly-gelled and motionless hair.

The DS3 is a car which can be highly personalised when buying. Continuing that theme the DS3 Cabrio is available with three soft-top roof styles; black, Infinite blue and a DS Monogrammed design. At launch seven different paint colors will be offered. Citroen say they've also incorporated an innovative 3D LED rear light into the design, and an original tailgate opening mechanism.
At 3.95m long, 1.71m wide and 1.46 m high, DS3 Cabrio retains the hatchback's proportions. It offers five adult seats – the only car to do so in its class. The electrically operated roof can be raised or lowered in just 16 seconds and at speeds of up to 75 mph (120 km/h). A button on the ceiling console opens the roof to three positions: intermediate, horizontal and total.
Aside from that folding patch of fabric overhead there is very little differentiating the DS3 Cabrio from its hardtop sibling. The DS3 Carbio is only fractionally heavier – by just 25 kgs (55 lbs). And interior space is unaffected. I guess it all comes down to how much you're willing to pay for some open air.
Source: Citroen