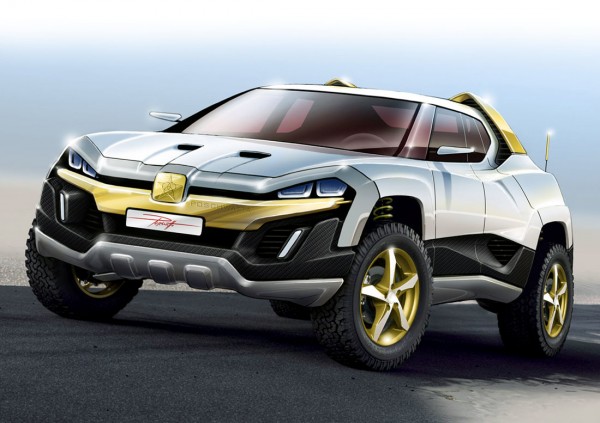 Dartz is a Latvian company unparalleled in the world of automotive manufacturing. Not because of their quality or performance. But because of their willingness to develop vehicles nobody else dares create. The company has equally eagerly absurd plans for their latest vehicle, the Dartz Nagel Dakkar.
Now I'm not trying to mock Dartz, this is genuine information gleaned from their official press release for the vehicle. Dartz say the Nagel Dakkar is the first vehicle in a new class; BNUDS. BNUDS is an acronym for Bespoke Noble Urban Desert Safety. Yes really. What Dartz are really trying to say is the Nagel Dakkar is a tailor-made luxury off-roader.

What's no joke is what Dartz intend to use for the Nagel Dakkar's drivetrain. Powering the vehicle is a 5.5 litre twin-turbo V8 from Mercedes-Benz. This engine produces 650 horsepower and 626 lb-ft of torque. The transmission is a seven-speed dual-clutch gearbox which sends power to all four wheels. All fairly serious stuff.
The chassis is a custom tubular spaceframe unit engineered by SAM – Saxon Automobile Manufactur. Amazingly Dartz say the Nagel Dakkar won't be getting just a boring old tubular steel frame, or even a fancy stainless steel or aluminium chassis. Oh no. Dartz want a tubular titanium chassis.
The bodywork is carbon Kevlar. For Dartz carbon fiber would be too common. And its striking looks were penned by the German designer Nils Poschwatta, who based his proposal on the sketches of Dartz's own designer Alex Isaev.
Sales of the Dartz Nagel Dakkar are due to commence in 2013 when just 10 vehicles are scheduled for construction. The year after Dartz want to double production to 20 units. From 2015 onwards Dartz hope to find buyers for 40 Nagel Dakkars. Those buyers had better as rich and crazy as Dartz themselves as the estimated price is between $390,000 – $468,000 (£200,000 – £236,000 / 250,000EUR – 300,000EUR).
But that's fine because Dartz advertise themselves as "supplier of tzars, admirals, generals and the dictators since 1869″.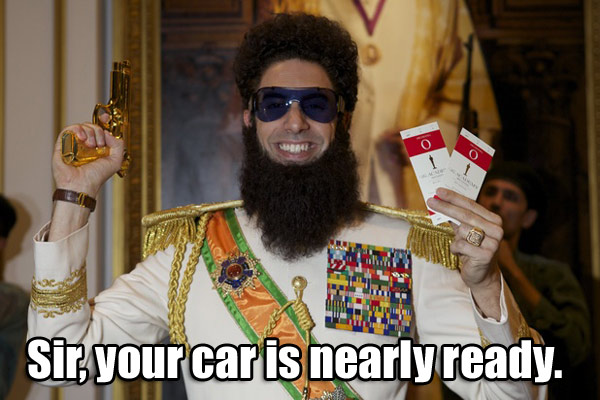 If you fancy a bit of light comedy then check out the official Dartz Nagel Dakkar press release below:
At Top Marques Monaco 2012 was signed MOU between DARTZ MOTORZ COMPANY, Inc owner Leonard F. Yankelovich – www.dartz.us and Saxon Automobile Manufactur owner Sven Knorr www.sam-mercedes.de. about new car designing and manufacturing.
Now desiging process is launched and DARTZ-SAM are ready to receive first orders.
This won't be just new car model – will be new class of cars we call it B.N.U.D.S.
Or
Bespoke – as every car will be made specially for You
Noble – as this car will be sold under world one of the oldest car labels
Urban – as will be excellent for city ride – and doesn't matter narrows streets of Monaco, of wide highway in LA.
Desert – car will be based on tubular frame and designed by famous SAM – Saxon Automobile Manufactur which is well known with their rally car with all performance issues
Safety – using titanium tubular farme in new car will be achieved unseen before safety for "civil" cars.
For that moment DARTZ-SAM car model name is NAGEL DAKKAR – this is second car we name after famous Russian Driver Andrew Nagel who not only come first at Monte Carlo rally 1912, but also crossed Dakkar desert at deep 1913 on Russobaltique car – DARTZ grandfather.
Attached – sketches from two car designers we are working with – DARTZ stuff designer Alex Isaev (pencil pictures) and German designer Pochwatta.
Our joint team now are in discussion how will look future, and – as we are bespoke car builders – may be it will have different bodies.
That's for sure, as our customers must have choice.
As all we know no ladie will come to party in same dress as other.
But, yes, they always come to this party in same cars.
yes, expensive, yes luxury – but – YES – similar.
DARTZ-SAM car will solve that issue, as on titanium frame we can put on "dress' or car body you want, you choose, you dream.
DARTZ-SAM will world one&only unique car which will mix highest quality of German engineering and car building traditions with insane Russian luxury.
DARTZ-SAM will be favorite car in Your garage – as when you will wake up don't knowing what's your plans for today, you can easy jump in in DARTZ-SAM – you can go off-road, all-road, or any-road.
DARTZ-SAM – car where you can make billions, like in business-pullman, and non-stop go to win rally.
WHY NOT? You work hard – You deserve it!
DARTZ-SAM plans is to get as minimum 1,3% of world luxury SUV market, but that's minimum, DARTZ already get request from Chinese government company which they signed contract at 2011.
As uniting of such out-of-box thinking teams look very promising.
Wealthy people need personalized cars and there are ten's of bespoke sportcars makers – but there are zero bespoke SUV makers.
That make people to buy regular SUV's and invest hundred's of thousands to upgrade them.
But anycase this are just regular cars, with expensive, but regular upgrade.
DARTZ-SAM sales plan on nearest years:
2013 10 units
2014 20 units
2015 40 units
2016 40 units
2017 40 units
Car price is planned Eur 250,000 – 300,000 for base model.
$390,000-$468,000
car specifications:
Engine
8 cylinder AMG Mercedes V8 Bi-turbo
Capacity 5.5L
Performance 650 HP, 850 Nm (626 lb ft)
Top speed 250 km/h
Drive train
Gearbox 7
gear double clutch gearbox
Clutch AP Racing
Sinter metallic Differentials Sadev
Body
Titanium tubular frame chassis Base for all the vehicles
Carbon Kevlar chassis Extremely light
Dimensions
Length 4620 mm (4-door / 4920mm)
Width 2000 mm Height 1700 mm (250 mm clearance)
Unloaded weight 1890 kgs / 1990 kgs
Wheel base 2910 mm (4-door / 3210mm)
Source: Dartz