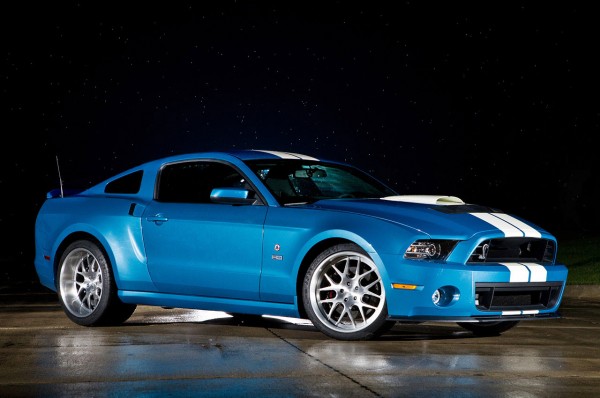 Friends of Carroll Shelby, including Ford Motor Company, Shelby American, Ford Racing and many others have built a special tribute 2013 Shelby GT500 Cobra. The one-of-a-kind vehicle was unveiled at the at the Rolex Monterey Motorsports Reunion, part of the 2012 Pebble Beach Concours d'Elegance this weekend. Sadly the last 12 months have seen the passing of Carroll Shelby, but at the same time it also hosts the 50th anniversary of the original legendary Shelby Cobra.
Using the 662-horsepower 2013 Shelby GT500 as a foundation, "Friends of Carroll" created a one-of-a-kind 2013 Shelby GT500 Cobra wide-body Mustang that now generates more than 850 horsepower with the help of a Ford Racing 4.0-liter Whipple supercharger. Ford Motor Company teamed with Shelby American for several key components on the Carroll Shelby tribute car. Shelby American provided a specially designed hood, new rear wide-body kit, Shelby Wilwood brakes and new 20×13-inch rear and 20×10-inch front wheels. The bodywork is finished in the same Guardsman Blue with Wimbledon White stripes that graced so many of the Cobra roadsters built in the 1960s.

Shelby American president John Luft commented during the car's unveiling.
"Carroll Shelby changed the performance world forever. And while he was proud of Shelby American's achievements, Carroll was far more interested in the next car we would build. You will find the spirit and influence of Carroll Shelby in every future vehicle we build just as you'll find it in the rear wide-body kit and hood integrated into the 2013 Shelby GT500 Cobra."
Ford's group vice president for sales and marketing Jim Farley added; "You might also know that Carroll was a philanthropist, noted for supporting causes that moved him. In that spirit, this car will be taken on tour around the country, and hopefully will be used in a special way at the end of its tour -  a way Carroll would appreciate."
At a guess that means this unique vehicle will be auctioned off at the end of its motor show life, and the proceeds will go towards a good cause.
Source: Ford