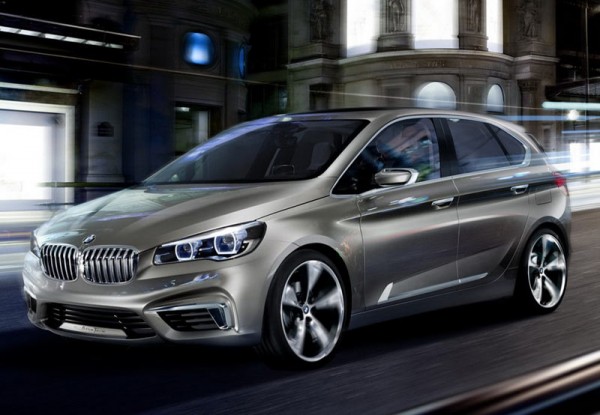 The BMW Concept Active Tourer was a preview of BMW's compact luxury car. The Concept Active Tourer marks a radical, and some might say, sad day for BMW. When it goes on sale it will be BMW's first front-wheel drive model. BMW have always had the unique selling point of only offering rear-drivers – from the 1-Series to the 7-Series and everything in-between. Of course there were the xDrive equipped AWD models. But never, ever FWD alone. All that's about to change.
Despite not being the most fun of layouts FWD does make sense for packaging reasons – especially important in a small car. And that's obviously why they've done it. Powering the BMW Concept Active Tourer is a plug-in rechargeable hybrid drivetrain which consists of a 1.5 litre turbocharged three-cylinder engine, and a lithium-ion battery powering an electric motor. Combined, the hybrid system provides a healthy 190 horsepower. Although for less performance but increased efficiency the car can run on electric power alone for up to 18 miles (30 km).
In normal running mode with both the engine and electric motor working together the BMW Concept Active Tourer can accelerate from 0-62 mph (100 km/h) in less than 8 seconds. Top speed is around 124 mph (200 km/h). The average fuel consumption is less than 2.5 litres per 100 kilometres (roughly 94 Mpg), with a CO2 emissions level of less than 60 g/km.

Stylewise the BMW Concept Active Tourer fits rather nicely with the rest of the company's lineup. From the front it's clearly BMW. That kidney grille is simply unmistakable. Viewed from the rear its origin is a little harder to pinpoint but the taillights are the primary giveaway. The proportions and dimensions of the car mean it in no way encroaches on BMW's other small car, the 1-Series, and the two clearly have very different roles in life.
Despite its compact dimensions the Concept Active Tourer has a fairly roomy interior thanks to its tall roof height. The five-door hatchback is 4,350mm (171 inches) long, 1,834mm (72 inches) wide, and 1,560mm (61 inches) high. The interior is light and spacious, partly because of the tall windows, but primarily because of the variable-opacity "Cool Shade" glass roof.
The driver has a wealth of information laid out in front of them on a variety of displays. There's an eight-inch main gauge cluster display, a huge 10.25-inch center console display screen, and an optional heads-up display. The passengers are equally well equipped with large seat-back mounted TV screens for both rear-seat passengers.
The BMW Concept Active Tourer will be making its world debut at the 2012 Paris Motor Show in just a couple of weeks.
Source: BMW