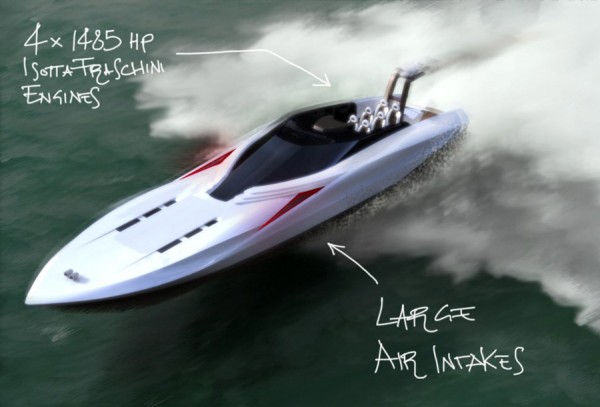 KeyFrameStudio (KFS) have just announced their latest project. Following hot on the heels of the KFS Gran Marlin 46′ – which quite literally sailed away with an award at the 2012 Millennium Yacht Design Award competition – the KFS Gran-Tender 72′ is a re-design of a world record speed boat which has been re-fit as a high-speed luxury tender.
The KFS Gran-Tender 72′ is based on the "Viareggio-Izmir" speed-world-record holding off-shore vessel called Zeynep and it uses the same hull. The vessel has been designed to act as the tender to a 70 metre MegaYacht. It's owner specified that they wanted the Gran-Tender 72′ to utilize the  same hull and mechanics of the record-breaking Zeynep, but offer all the luxury and amenities the super-rich expect of their watercraft.

KeyFrameStudio have fitted the GT72′ with six exterior sports seats allowing the passengers to experience the extreme speed the boat is capable of. Inside there is space for six other guests. The captain is seated in a central position ahead of the six exterior passenger seats.
The driving console of the Gran-Tender 72′ was inspired by supercar and spacecraft cockpits. There are two wings that cover the stairs providing lighting below-deck. There is a large open area in front of the console that allows for direct sunlight to reach the salon below. On the lower deck is a lounge area complete with galley and pantry equipment. The salon can be transformed into everything from a huge bed to a dining room. The vessel also features a futuristic helical staircase that allows for direct access to the main deck sunbathing area. Towards the front of the Gran-Tender 72′ are two bathrooms and a master cabin.
On the forward deck there is a large sunbed for four people. The bow has two large air intakes for the 4 x 1485 Hp Isotta Fraschini engines. Having 5,940 horsepower on-board means the Gran-Tender 72′ is capable of some serious speed. 75 knots to be exact.
The KFS Gran-Tender 72′ is a one-off vessel which will soon be performing its duties alongside its 70-metre mother-ship.
Source: KFS.it