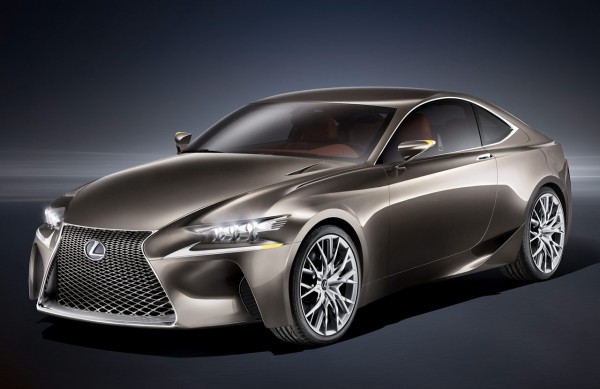 Lexus made a splash at the 2012 Paris Motor Show with a stylish mid-size coupe concept.
The LF-CC concept follows the same styling theme as the LF-LC concept, albeit in a more practical design. The LF-CC displays the boldest interpretation yet of the spindle-shaped grille that has become a signature feature of recent Lexus models. In fact the grille is so large it completely dominates the front of the car. The air intakes built into the front wings funnel air to the engine bay and front brakes.
From the rear the LF-CC concept looks pretty good. The taillights are a bit fussy and don't really work too well with the rest of the car. Also, quite why the designers thought it would look good to stick the high-mount brake light on the roof, thereby breaking up what would otherwise be a very clean roofline, is a mystery.
In profile the Lexus LF-CC looks great. You can't see the oversized grille and the taillights don't look bad from the side. It's definatley the car's best angle. Oddly, but perhaps it's no mistake, in profile it looks like the offspring of a BMW 3-Series Coupe and an Audi A5.

Powering the Lexus LF-CC concept is a new 2.5-litre full hybrid drivetrain which is destined for use in future Lexus models. Lexus haven't said a word about the power or performance it provides, stating only that they're aiming to get low emissions and high fuel economy out of it.
The Lexus LF-CC Concept will be the company's headline act at the 2012 Paris Motor Show. It will be officially unveiled on the 27th September.
Source: Lexus