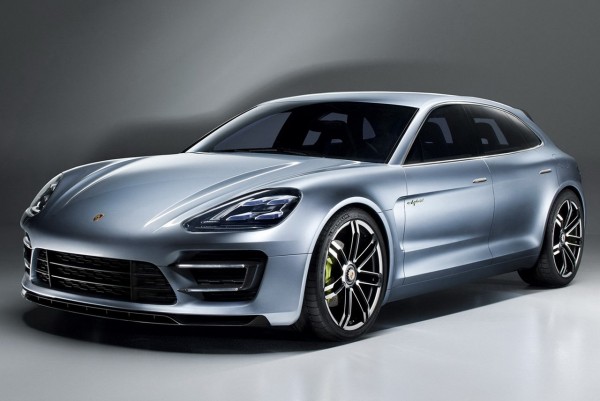 The Porsche Panamera Sport Turismo Concept was one of the main attractions at the 2012 Paris Motor Show. Both sporty and functional, the concept combines the dimensions of a premium vehicle with the interior comfort of a luxury car. The effortlessly cool exterior design is sleek and simple. Neat LED headlights and taillights stand out like flashy jewels against the subtle Liquid Metal Blue paintwork.
Powering the Porsche Panamera Sport Turismo Concept is a plug-in rechargeable hybrid drivetrain, symbolised by the "e-hybrid" badge on the front wings. The drive system of the Panamera Sport Turismo is an advanced development of the parallel full hybrid setup that's fitted to the Panamera S Hybrid and Cayenne S Hybrid. The new electric motor produces about 95 hp, which is around twice as much as in today's Porsche hybrid drive, while the three-litre V6 supercharged engine still produces 333 hp. With its 416 hp peak output, the Panamera Sport Turismo concept can also be driven in pure electric mode up to 80 mph (130 km/h), and can cover distances of over 18 miles (30 km) before the engine kicks in.

The lithium-ion battery of the Porsche Panamera Sport Turismo Concept holds 9.4 Kilowatt-hours of energy storage capacity, and high peak power enables faster acceleration, longer range and higher speeds when driving without the internal combustion engine. The default operating mode of the e-hybrid prioritises all-electric driving, but the driver may deactivate this by pressing a special button on the steering wheel. In addition, when the car is being operated in hybrid mode the driver can select the e-charge mode by pressing the steering wheel button to intentionally intensify charging of the high-voltage battery. Charge time of the battery using Porsche's universal home charger is 2.5 hours.
On the inside, a large central TFT color display is positioned in front of the driver; it is used to call up and display any vehicle information as needed – from the tachometer to driving data or navigation. Two monitors, one to the left and one to the right of this display, show images from the "exterior mirror" cameras. Two additional displays in tube form provide information on the hybrid-specific driving states, e.g. pure electric driving, as well as other functions.
Loading ...
Source: Porsche