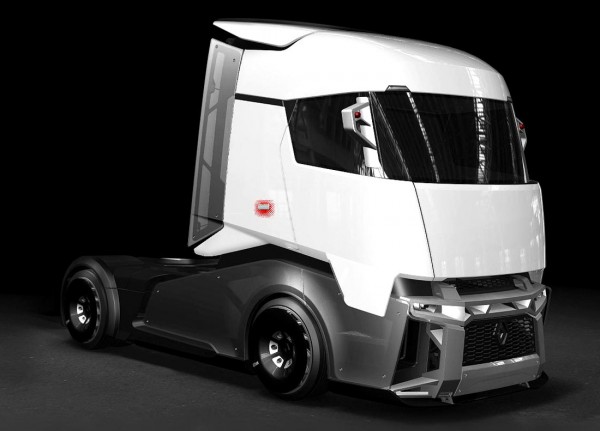 Renault's commercial division, Renault Trucks, showed off their future vision of long-range, big-rig vehicles at the 2012 Hanover IAA motor show.
Moreso than perhaps any other type of vehicle, long distance transport trucks are increasingly being designed to offer maximum fuel efficiency in order to reduce costs for their operators. Although reduced fuel consumption can be achieved through different means, developing more efficient engines and designing lighter, more aerodynamic vehicles are the most obvious routes to explore.
For the Renault Trucks CX/03 Concept everything was done to improve the vehicle's aerodynamics and make it is light as possible. For example, its radiator grille is based on a tubular structure which combines aluminium and carbon fibre with three aerodynamic blades on the base to guide the airflow towards the sides. Personally I think it looks good. Somewhat like a character from Transformers who's alter-ego is a Storm Trooper.

The company haven't commented on what's powering the CX/03, however they have announced that they're working on a number of more fuel efficient engines for use in all their medium and heavy duty vehicles.
Renault Trucks are set to completley replace their range in 2013. All the vehicles concerned are currently undergoing trials on the Renault Trucks test tracks and under actual operating conditions with a number of partner customers.
Heinz-Jürgen Löw said of the change: "In June, there will be a real revolution. Our new vehicles are going to surprise you, not only in terms of their design but also their performance. We are aiming for excellence and are doing everything to attain it."
It's unclear how much of the CX/03's design will be make it into Renault Truck's new-generation of vehicles. Hopefully quite a lot.
Source: Renault Trucks