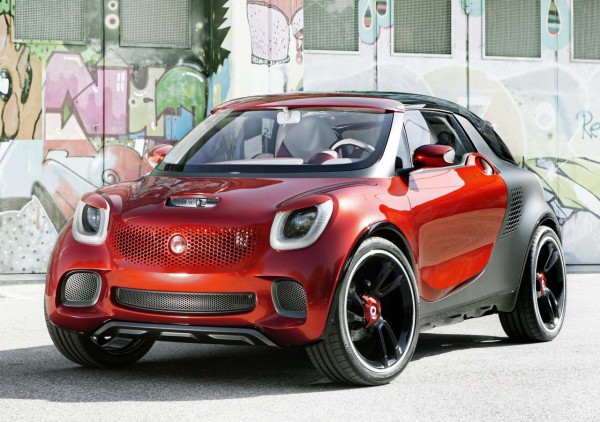 The smart forstars concept was one of the vehicles premiered at the 2012 Paris Motor Show.
The smart forstars was based on the same architecture of the smart for-us concept, which was introduced in January at the Detroit Auto Show. The forstars is slightly larger than the company's bread-and-butter fortwo model. But it's still tiny. The compact two-seater features bubbly, cartoonish styling all round. The oversize wheels – 21 inch – look almost comical, but somehow they work with the rest of the car's busy design.
Up front the smart forstars has a distinct "face". It looks like it could be a character from one of the Cars movies. In the centre of the hood you'll notice what looks like a small air intake. But it isn't. It's a projector. The smart forstars is a mobile outdoor cinema. Find any bare wall and you've got yourself a full-HD movie machine. The projector is controlled via Blutooth and an iPhone. Movies can be enjoyed by just the two occupants, or if you happen to have a bit of an entourage then hidden speakers built into the exterior of the car can pump out audio for people outside the vehicle.

Powering the smart forstars concept is an all-electric drivetrain, almost identical to that used in the smart BRABUS electric drive. It features an 80 horsepower (60 kW) electric motor and offers an 80 mph top speed. A handy recharging socket is hidden behind the right-side headlight. Bizarrely, behind the left hand headlight you'll find a storage compartment built to accommodate one drinks can!
smart boss Dr Annette Winkler said of the forstars concept: "The smart is Europe's most inexpensive series-produced electric car. Not only is it emission-free and fast, it is also possible to conveniently set the perfect interior temperature in advance with a smartphone, and it is simple to charge at a domestic socket. What's more, with its powerful battery and integrated projector the smart forstars can transform any grey backyard into an animated open-air cinema."
Don't expect to see a production model. Ever.
Source: smart