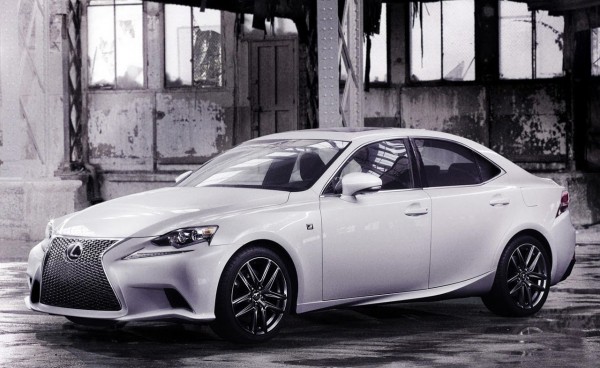 For the 2014 model year Lexus have given the IS a comprehensive makeover which includes all-new bodywork, a redesigned interior, and new technology. As the car isn't due to be fully revealed until the 2013 Detroit Auto Show next week details are still a little sketchy. But the images show a car with styling more in-keeping with the rest of Lexus' lineup. The huge, spindle-shaped grille dominates the front end. Personally I think it's a bit OTT, and along with the unnecessarily complicated headlights and weird little Nike-swoosh things embedded into the bumper it's all a bit much. But seeing as how a good proportion of Lexus buyers are in that age bracket where both style and eyesight are both a little unreliable, it probably won't put off too many people.
The back end of the new IS is more elegant, with a prominent style line sweeping up from the sideskirts, through the rear wheel arch, and over the taillights. It still won't walk away with any "rear of the year" awards, but it gives the IS a fighting chance against the Germans.

The 2014 Lexus IS is longer and wider than its predecessor, and along with a thinner front seat design, that translates into more interior room all round. There's also more usable cargo space in the rear for hauling around golf-clubs and zimmer frames.
Pictured here is the F Sport version of the Lexus IS. This trim level offers sportier bumpers, larger wheels and a higher-spec interior with different seats, steering wheel and trim.
So far Lexus have been guarded about what drivetrains will be on offer for the new IS. However it is known that in the US a 2.5 litre and 3.5 litre V6 engines will be on offer from launch. These will be coupled to 8-speed automatic transmissions. Later a four-cylinder hybrid version will be released.
Source: Lexus