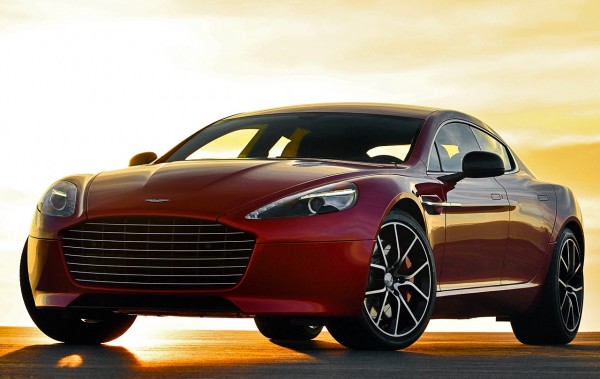 Since its launch in 2009, the Aston Martin Rapide has always been considered one of the world's most stylish luxury cars. Sure the BMW 7 series, Mercedes S Class and Porsche Panamera offer equally ludicrous levels of luxury, but none of them can match the Rapide on looks. In fact ram a Rapide into a wall a few dozen times and it'd still be the looker compared to the Panamera.
But four years has passed since the Rapide hit the showrooms, and it's now time to ratchet the car up a bit to make sure it's still as fresh and appealing as it was when it was launched. So that means several things. First off a name change. From now on the car will be called the Aston Martin Rapide S. And that little letter means a lot.

It means a significant bump in horsepower, 17 per cent to be exact, which takes the total up to 555 hp. Naturally the torque output has also jumped, up from 442 lb-ft to 457 lb-ft. That increase in power reduces the car's 0-62 mph time by 0.3 seconds, allowing it to accomplish the sprint in 4.9 seconds. The top speed rises to 190 mph. Yet despite the improvement in performance, the Aston Martin Rapide S is also more fuel efficient than the outgoing model.
But what's the point in forking out significant wedge for the newer, faster, and all-round better model if nobody knows. Other than pesonal satisfaction of course. So to make sure the Rapide S stands out, Aston Martin have fitted it with a huge single frame grille which replaces the original car's two-piece mouth. At the rear a more pronounced integrated spoiler sits between the taillights.
On the inside, arguably the most important aspect of a luxury car, the Rapide S plays host to a number of new luxury- or sports-orientated options, allowing buyers to more precisely tailor the car to their specific style. For example the new piano black interior pack adds a deep, rich, mirror-like shine to the facia, transmission tunnel centre plate and door handles of the Rapide S. A darker surround in the instrument binnacle and steering wheel with black horn-push surround round off the pack's changes.
Options to further enhance the luxurious look and feel of the Aston Martin Rapide S include, subject to market, a reversing camera and twin screen rear seat entertainment system with wireless headphones, remote control and six-disc DVD changer.
Those with deep enough pockets might also consider the 'Q by Aston Martin' service which offers uniquely-tailored options for individualisation which go above and beyond the usual options list.
The new Aston Martin Rapide S will be available to order worldwide starting February 2013.
Source: Aston Martin