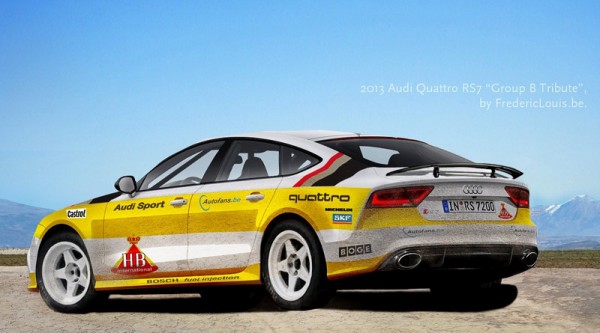 Surely when Audi's designers were putting the finishing touches to the recently unveiled Audi RS7, they never thought it would be the subject of some aggressive rally-inspired photoshopping. But step up Frederic Louis, a Belgian with a soft spot for the insane Group B rally cars of the 1980s.
He created a couple of renders showing what a Group B prepared RS7 could look like for Autofans.be. Of course its all just a bit of fun. The Group B series was cancelled in 1986 after just four years because of the high number of fatalities incurred by both unruly spectators and fearless competitors. And even if it was still around. Audi has far more suitable candidates for rallying in its extensive lineup than the large and luxurious RS7.

Nevertheless its cool to dream. And I don't know about you, but my day dreams are frequently filled with obscure automotive mash-ups and what ifs. It's nice to see I'm not alone.
Source: Frederic Louis via Autofans.be