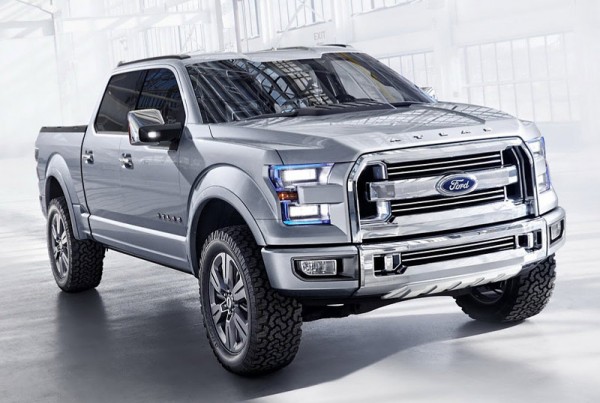 Ford's big surprise at the 2013 Detroit Auto Show was, well… Big. It was a full-size pickup concept called the Atlas which is designed provide a hint of what the company's new pickups might look like. Aside from previewing the next F150's styling, the Atlas concept also showcased a few of Ford's most recent fuel-saving technologies.
"The Ford Atlas Concept previews the innovations that will transform what people expect from their pickup," said Raj Nair, Ford group vice president, Global Product Development. "With 36 years as America's best-selling pickup, we are absolutely committed to setting the agenda in the truck market."
The rugged exterior design of the Ford Atlas Concept is intended to reinforce the company's "Built Ford Tough" tagline. Multiple aspects of the concept are also designed to enhance the truck's functionality and practicality. For example, a number of tie-down points are integrated within the cargo box walls and load floor, along with 110-volt electrical outlets in the cargo box to charge power tools. An  integrated roof carrying system and hidden extendable ramps provide added help when needed. While a 360-degree point-of-view camera system gives the driver a bird's-eye view of the truck to help with maneuvering in tight spaces.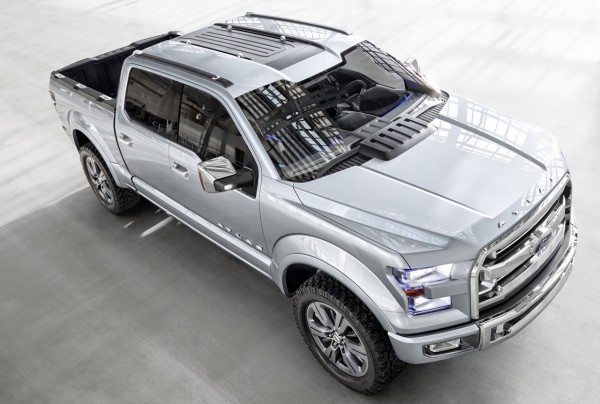 The sleek and modern interior of the Ford Atlas is more show car than workhorse. Excessive amounts of Cool blue lighting looks tacky, but does a good job of illuminating all the shiny silver trim and slick, black leather clad seats. Integrated storage spaces and glove-friendly buttons and controls provide some added functionality to the interior. Rear seat passengers will also appreciate the thin, space saving front seats which allow for greater legroom all round.
Although Ford don't say exactly what's hidden under the hood, they have divulged that the Ford Atlas Concept is powered by a next-generation EcoBoost powertrain, which features truck-enhanced Auto Start-Stop engine shutoff technology. EcoBoost engines use gasoline direct injection and turbocharging to deliver fuel-economy gains of up to 20 percent and reduction of CO2 emissions of up to 15 percent, compared with larger displacement engines.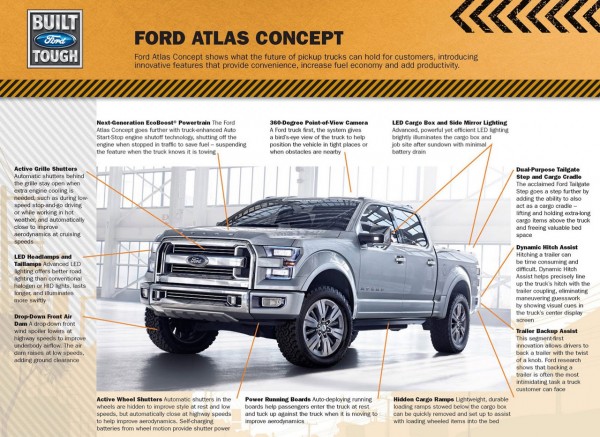 To improve fuel economy even further, the Ford Atlas concept features a number of different technologies designed to improve the truck's aerodynamics. These include active grille shutters which automatically close up at cruising speed to improve airflow over the vehicle. Similarly, automatic shutters in the wheels use the same principle to close off the spokes in the wheels. The wheel shutters employ self-charging batteries which use energy from the wheels' motion to power the shutters. A drop-down front wind spoiler lowers at highway speeds to improve underbody airflow. And finally, auto-deploying running boards help passengers enter the truck at rest, and tuck up against the truck when it is moving to improve aerodynamics and ground clearance.
Source: Ford