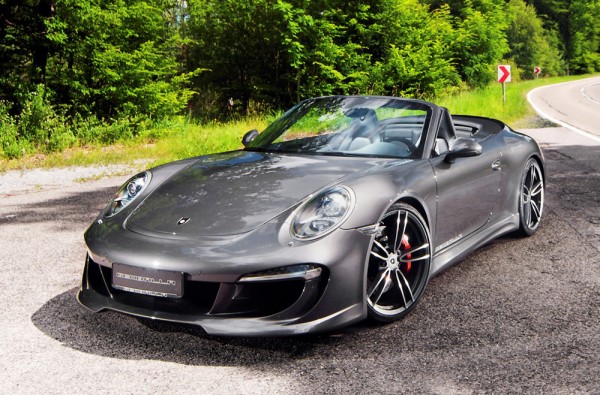 The world-renowned German tuning company Gemballa have just put the finishing touches to their latest aerodynamic and chassis package for the Porsche 991 Carrera S Cabriolet. The upgrade includes new front and rear bumpers designed to increase downforce and improve cooling airflow. At the rear an integrated air diffuser plays host to no less than six exhaust tips, which are part of the all-new exhaust system which provides a deeper and louder note than the standard pipes.
As well as the new bodywork and exhaust, Gemballa have developed 30mm shorter springs which have been calibrated to work seamlessly with the factory PASM (Porsche Active Stability Management) system. Brembo were drafted in to design an exclusive brake package unique to Gemballa which offers reduced brake fade under extreme conditions.

The only other changes are a set of 21-inch forged alloy wheels finished in either 'diamond cut' or gunmetal coatings.
Gemballa's products and services don't come cheap however. The bodywork kit alone is a whopping $26,000 (19,860 EUR), and the wheels come in at $13,000 (9,895 EUR). That's a hell of a lot of money for no improvement in horsepower or performance!
Source: Gemballa