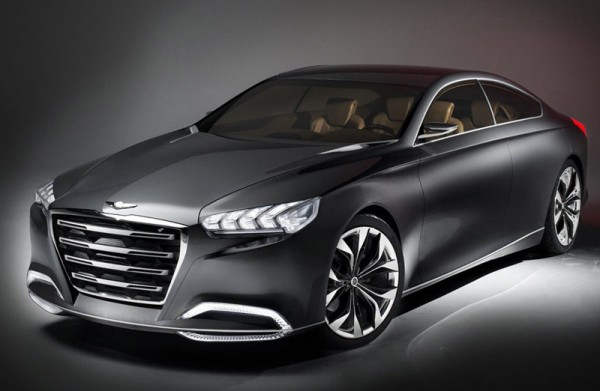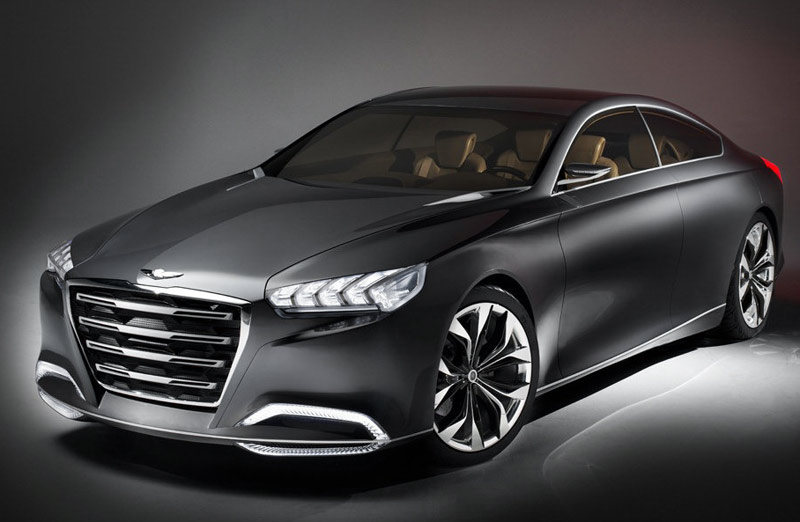 It seems that Hyundai is just going from strength to strength. It wasn't long ago that their concept cars looked like the outgoing models from the competition. But now they have the skills to make good looking production cars, and judging by the HCD-14 Genesis, jaw-dropping concept cars.
The HCD-14 Genesis is intended to provide a glimpse of what the next-generation Genesis sedan might look like. Albeit in a more toned down and less futuristic form. The bold face of the concept is characterised by the large upright grille and jewel-like LED lights. The sleek profile of the car is made even more seamless with the removal of any superfluous details. Even the door handles have vanished somewhere into the bodywork. And unlike so many modern cars, there aren't  a bunch of largely useless lateral air intakes and outlets to break up the graceful lines.

The interior is equally minimalist, although perhaps not quite as stylish as the exterior. The swathes of beige leather and dark wood accents have a rather dated feel in comparison with the futuristic exterior. The aircraft-inspired interior features a mix of both analog and digital displays. The driver-focused cockpit offers an asymmetrical center stack, with critical driving functions separated from passenger comfort functions. The center console includes an iPad tablet storage station.
Using state-of-the-art driver eye-tracking and 3-D hand-gesture recognition the HCD-14 Genesis concept is able to recognize driver commands. Once a specific feature is selected via eye-tracking, thumb controls or gesture recognition can be used to select navigation, infotainment, audio, HVAC, and even smartphone connectivity functions.
Powering the Hyundai HCD-14 Genesis concept is a 5.0 litre V8 engine with direct injection and Dual Continuously Variable Valve Timing. The transmission is an 8-speed automatic unit with paddle shifters located behind the steering wheel.
Source: Hyundai