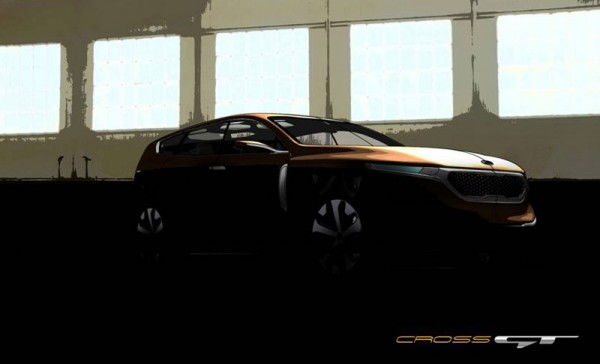 At the Chicago Auto Show next month, Kia are set to unveil a luxury crossover concept. Their teaser image shows a chunky looking machine which displays almost every one of the company's most recent styling cues. Including the "tiger nose" grille and headlight arrangement, and flicked-up d-pillar.
The Cross GT is larger than the Sorento in size, suggesting that it might have three rows of seating. The Cross GT is also aimed at the more luxurious end of the market, which is inline with Kia's current strategy of going more upmarket.

Kia themselves had very little to say about the Cross GT – well until Chicago that is. Their short press release states: "Inspired by nature, driven by technology, the Cross GT hints at the future of Kia's design language in the form of a premium Crossover Utility Vehicle (CUV) that is larger than the new 2014 Sorento."
The Chicago Auto Show opens its doors to the public from February 9th until the 18th.
Source: Kia