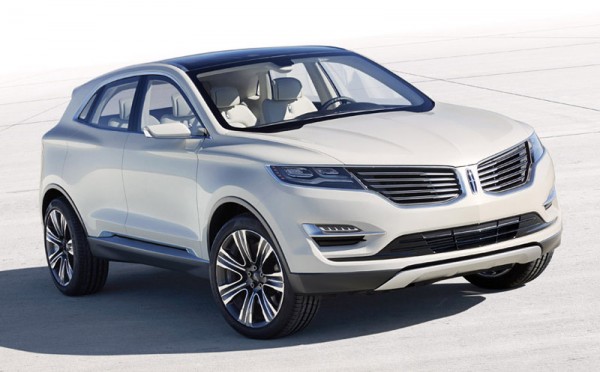 With Ford still in the process of trying to turn their luxury division Lincoln into a profitable and healthy business again, their new lineup of cars need to good. And not just kinda sorta good. They need to be good good. Enough to tempt buyers away from their Lexi, Bimmers, and Caddys, and back into Lincoln showrooms. So that makes the MKC Concept an important vehicle for the company. It might have the c-word tacked onto the end of its name. But rest assured this concept will become reality in the very near future.
The Lincoln MKC Concept is a compact utility vehicle which offers a fairly accurate vision of what a future production model will look like. The compact utility vehicle segment has balooned in the last few years, and Lincoln is eager to get a slice of this lucrative pie by positioning itself somewhere near the premium end of the market.

The MKC Concept builds on the foundations of the Lincoln Design DNA found in the new MKZ sedan. That means the return of the distinctive split-wing grille which dominates the front of the car. It has neat and crisp bodywork which looks classy and mature. It doesn't rely on cheap gimmicks or tacky plastic add-ons to look good.
According to Murat Gueler, MKC Concept lead exterior designer: "The MKC Concept has a wonderful stance and sits beautifully on its wheels. It has a sleek, sculpted body and wheel arches and elegant shoulders. The lines of the vehicle appear relatively simple on first look but with a second view reveal a dynamic three dimensionality. The Lincoln design team has done an outstanding job with the MKC Concept in communicating Lincoln's design vision for reaching a new and discerning clientele."
The interior of the Lincoln MKC Concept is bright and airy, partly because of the choice of light colored upholstery, but also thanks to the huge panoramic glass roof.
Just like MKZ, the MKC Concept features a distinctive push-button gear shift selector. This allows for a flowing, uninterrupted center console design.
"There is a significant upgrade in materials and a stylish, fashion-oriented package. The materials are combined with progressive combinations and uses of stitching and colors," said Soo Kang, Lincoln interior design chief.
The headliner which frames the glass roof is wrapped with high-end materials, providing a warm and luxurious feel. The pillars are wrapped with premium leather. The seats also feature premium leather and include a unique embroidered Lincoln Star and crimson stitch accents.
The Lincoln MKC Concept will make its world debut at the 2013 Detroit Auto Show. No announcements have been made yet on the production model's due date or pricing.
Source: Lincoln