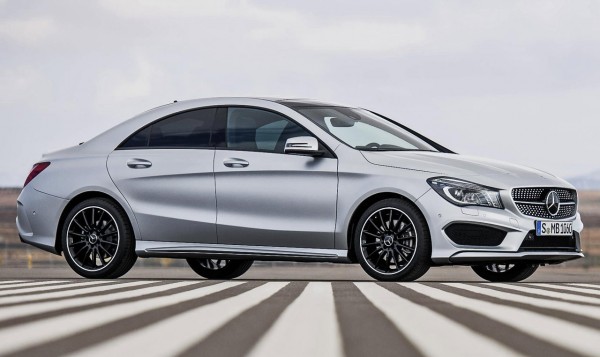 Say hello to the CLA. The all-new, and very stylish little brother of the handsome CLS. The CLA is yet another one of those four-door coupes, or as people who live in the real world like so say, sedan.
The CLA was debuted yesterday in Detroit to a select audience. But oddly it wasn't displayed at the 2013 Detroit Auto Show – which is going on at this very moment. Instead Mercedes chose the Westin Brook Cadillac Hotel as their venue for the unveiling. The car will get a more public outing later this year at the 2013 Geneva Motor Show.
The styling for the CLA is based on that of the Mercedes-Benz Concept Style Coupe from 2012, and it's a good looking motor by anyone's standards. Remarkably, despite its sturdy proportions and conservative profile it somehow manages to record a drag coefficient of just 0.23, the lowest of any production car in the world! Including the various ugly, amorphous shaped hybrid vehicles whose sole mission is to be as efficient as possible. Somehow Mercedes' designers and aerodynamic engineers have managed to conjure up a shape that slices through the air better than anything before.

Based on the architecture of the new A-Class hatchback, from launch the CLA will be offered with a choice of three different drivetrains. However the U.S. will only be getting one option, and that comes in the form of the CLA 250, which is powered by a turbocharged 1.8 litre four-cylinder engine producing 208 horsepower and 258 lb-ft (350 Nm) of torque. A seven-speed automatic transmission and FWD is standard, while a 4Matic AWD system developed with the help of AMG will be optional.
Other markets will have the extra choice of the CLA 180 and the CLA 220 CDI. The CLA 180 is powered by a 1.6 litre four-cylinder producing 122 horsepower and (147 lb-ft) 200 Nm of torque. While the CLA 220 CDI offers 170 horsepower and 258 lb-ft (350 Nm) of torque from its 2.2 litre direct-injection diesel engine.
Later more drivetrain options, including an AMG-powered version will become available.
Source: Mercedes-Benz