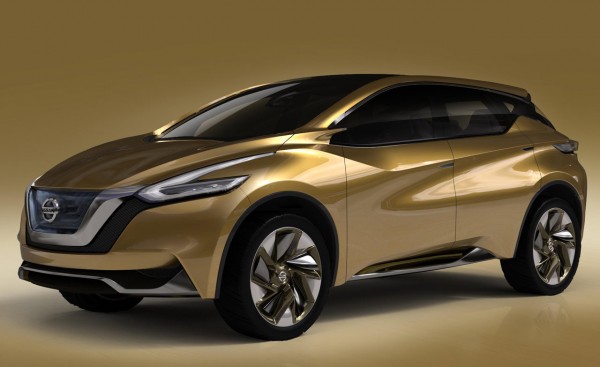 The Nissan Resonance concept, which was unveiled at the 2013 Detroit Auto Show, was a stylish crossover vehicle designed to preview the future direction of Nissan SUV design. The concept was created by a team at Nissan Design America, based in San Diego, California.
"This design is not meant to appeal to traditional two-box SUV shoppers, but rather to those whose fashion and design choices make a statement. For Nissan, this concept makes our statement about the future of this segment." said Francois Bancon, Nissan Motor Co. division general manager, Product Strategy and Planning.
The styling of the Resonance Concept is designed to express a lightweight, aerodynamic feel. The roof's unique "floating" design is created through the use of the thin, steeply raked A-pillars, a large full-length glass panel and flowing D-pillar design.

On the inside the designers have created a VIP lounge-style interior, with soft leather, fancy sequential welcome lighting, and bold patterned wood trim. The center console houses a large multi-function display which is graphically layered to provide the illusion of depth.
"The Resonance interior reflects the enlightened modernity of today's crossover buyer, who values an amazing experience over traditional indulgence," continued Francois Bancon.
Powering the Nissan Resonance Concept is a hybrid drivetrain comprising of a 2.5 litre DOHC gasoline engine, and an electric motor . The all-wheel drive Resonance includes Nissan's proprietary "one-motor, two-clutch" system that combines both power sources using an advanced management system. The Resonance also features Nissan's next-generation Xtronic CVT (Continuously Variable Transmission).
Nissan Resonance Specifications:
Drive Configuration: Four-wheel drive Hybrid Electric Vehicle (HEV)
Engine/Motor: 2.5-litre DOHC internal combustion petrol engine, high-performance electric motor with advanced control technologies, one-motor/two-clutch hybrid technology
Transmission: Next-generation Xtronic CVT® (Continuously Variable Transmission)
Battery: Compact laminated lithium-ion battery, intelligent battery charging control
Wheels/Tires: Five-spoke 22-inch aluminum-alloy wheels / 265/40R22 tires
Suspension: Lightweight four-wheel independent suspension – independent strut front, multi-link rear
Braking: Cooperative regenerative brakes
Wheelbase: 113.2 inches
Length: 190.6 inches
Width: 78.7 inches
Height: 68.1 inches
Source: Nissan