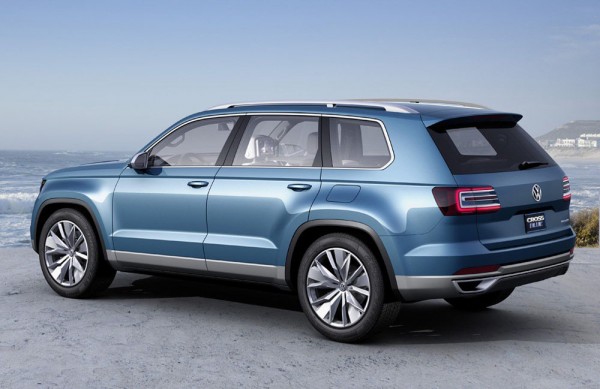 Volkswagen's big – both literally and figuratively – news at the 2013 Detroit Auto Show was the CrossBlue Concept. It was a 6/7-seat SUV concept vehicle which was designed specifically for the U.S. and Canada.
The CrossBlue was designed in Germany under the leadership of Walter de Silva (Head of Design, Volkswagen Group) and Klaus Bischoff (Head of Design, Volkswagen Brand), in close coordination with Volkswagen of America. The vehicle is designed to provide the visual impact of an SUV with the spaciousness and flexibility of a minivan.
"The CrossBlue concept is exactly the right type of vehicle for the U.S. market," said Jonathan Browning, President and CEO, Volkswagen Group of America. "It combines a truly versatile interior layout with sophisticated Volkswagen design, to give a unique and supremely stylish offering in this segment. Moreover, the vehicle showcases our innovative German powertrain engineering and the bandwidth of the new MQB architecture."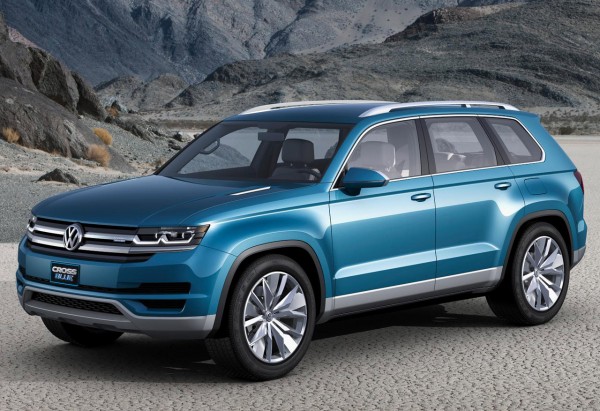 Painted in "CrossBlue Glass Flake", the concept is 196.3 inches long, 79.3 inches wide, and 68.2 inches high. large 21-inch aluminum-alloy wheels shod with 235/45 tires are tucked under the significantly flared wheel arches. Contrasting with the body color is a band of stainless-steel trim that runs all around the SUV's lower body section.In terms of shape, the CrossBlue features a very prominent and long hood that integrates the engine's air intakes, a roofline that is also long, and a very short frontal overhang.
The spacious interior of the Volkswagen CrossBlue is designed to be both luxurious and versatile. And while the concept is fitted with six individual seats in three rows, in a production version, the second row would have the option of three seats to make it a full seven seater. Convenient access to the rear seats is assured by sliding second-row seats that can be managed with a single hand movement.
Behind the third seating row is a spacious cargo area. With the third row folded, load length is 48.8 inches, a figure that increases to 83.5 inches with the second row stowed. A fully folding front passenger seat means that objects up to 118 inches long can be accommodated inside the CrossBlue.
Powering the Volkswagen CrossBlue concept is a hybrid drivetrain which consists of a TDI diesel engine with two electric motors, a DSG dual-clutch automatic transmission, and an electric all-wheel-drive system that is dubbed "propshaft by wire." Volkswagen's manufacturer estimated fuel economy rating is 89 mpg combined in electric mode and 35 mpg as a hybrid. As well as offering impressive fuel economy for a mid-size crossover SUV, the CrossBlue has equally appealing performance from a powertrain that produces up to 305 horsepower and 516 pound-feet of torque: 0 to 60 mph is estimated to take just 7.2 seconds.
The CrossBlue runs in zero emissions mode either at the press of a button or automatically. With a fully charged 9.8kWh lithium-ion battery, the CrossBlue can travel a distance of 14 miles in all-electric mode; to achieve optimal driving range, the top speed is reduced from 127 mph to 75 mph.
Source: Volkswagen