Well that didn't take long did it? The dust has barely settled since the all-new C7 Corvette Stingray was unveiled at the Detroit Auto Show, and already the drop-top version is on its way. The chosen venue is the 2013 Geneva Motor Show, which kicks off in the first week of March.
Susan Docherty, president and managing director of Chevrolet and Cadillac Europe, explained why a location other than the U.S. was chosen for debuting what is probably the best known American car: "It's fitting to introduce the new Stingray convertible on the global stage at Geneva because Corvette is the face of Chevrolet the world over. It is an icon that has long been recognized and admired even in countries where it's never officially been offered."
The decision also highlights the fact Chevrolet want to offer the C7 Corvette in more markets than any of the previous generations. That's in recognition of the fact there are already Corvette owner's clubs in over 100 countries, and 58 percent of the 1.1 million "Likes" on the official Corvette Facebook page come from outside the U.S.

Commenting on the car itself, Tadge Juechter, Corvette chief engineer, said: "Every Corvette is designed at the outset as an open car. The new Stingray is no different, with the coupe and convertible designed to excel in any situation – be it your daily commute, a drive across the continent, or charging through twisting back roads."
Chevrolet will auction the first retail production model of the Corvette Stingray convertible at the Barrett-Jackson Palm Beach collector car auction (April 4-6) to benefit the Barbara Ann Karmanos Cancer Institute.
If you want a pretty accurate idea of what the C7 Corvette Stingray Convertible will look like, then you might want to take a look at the images below. However it's not confirmed these are the real-deal direct from Chevy. So treat with mild caution.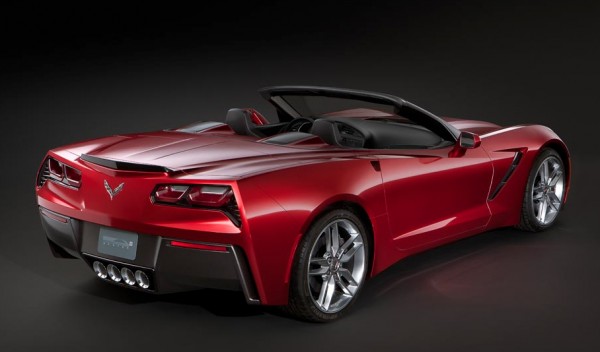 Source: Chevrolet
Images: AutoGuide