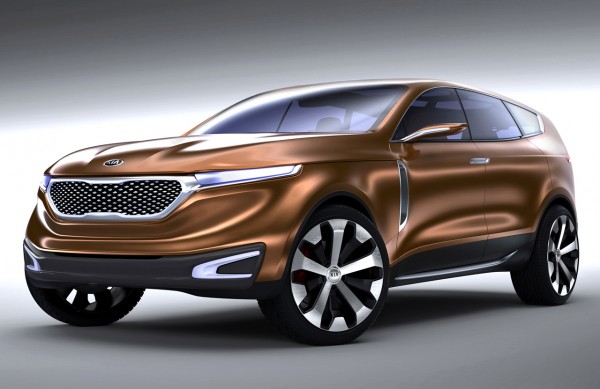 At the 2013 Chicago Auto Show, Kia pulled the covers off a luxury SUV concept which is designed to hint at the brand's design direction for future large vehicles.
The company says the car uses influences from the 2011 Kia GT concept, however these seem to be limited to fairly standard Kia traits like the tiger-nose grille and, well… That's about it. The Cross GT rides on the same chassis as the GT, however it is taller, and instead of being rear-wheel drive it features an all-wheel drive system.
Peter Schreyer, Kia Motors Corporation President and Global Chief of Design, said of the concept: "The debut of the GT in 2011 heralded a new frontier for Kia, both from a design and a business perspective.  It beautifully illustrated to the world that the brand was ready to explore the possibility of perhaps one day offering a full-size rear-wheel-drive luxury saloon.  The Cross GT, with its raised stance and large cargo area, allows us to envision the GT in the form of a full-size luxury crossover."

Powering the Kia Cross GT Concept is a hybrid drivetrain which consists of a 3.8 litre V6 engine coupled to an eight-speed automatic transmission and torque-vectoring all-wheel-drive system. This is supplemented by an electric motor positioned between the engine and transmission.
Combined, the V6 and electric motor produce 400 horsepower and 500 lb/ft of torque. In addition it also offers an all-electric range of 20 miles.
The stylish interior of the Kia Cross GT concept is accessed through a combination of conventional front doors, and rear-hinged rear doors. This configuration allows for easy and unhindered access to the rear bucket seats. The cargo compartment is accessed through a "clam shell" design that incorporates a traditional glass hatch and a tailgate.
Although Kia state that the Cross GT is "purely conceptual", they also mention that the "Cross GT reveals Kia's intentions to potentially offer a larger premium SUV than the current Sorento in certain markets."
Source: Kia