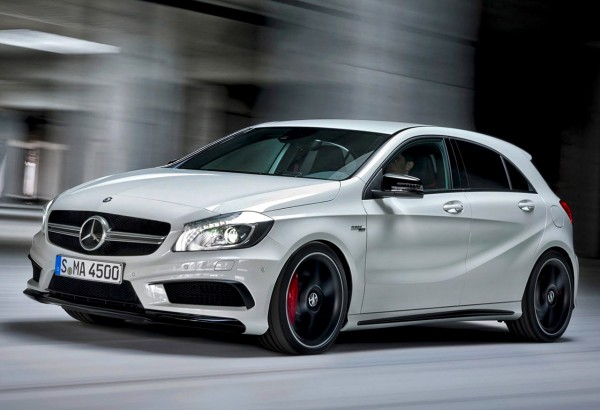 With the introduction of the Mercedes-Benz A 45 AMG, it marks the first time in AMG's history that they've been involved with developing a vehicle for the compact class. And they have certainly made the most of it. The A 45 AMG boasts the most powerful series production 4-cylinder engine in the world, with its 2.0 litre turbocharged engine managing to produce an impressive 360 horsepower and 332 lb-ft (450Nm) of torque.
The transmission is  a 7-speed dual clutch unit with three driving modes, a double-declutching function and RACE START setting for maximum acceleration from a standing start. The transmission sends its power to all four wheels via an AMG 4MATIC system.

From the outside the Mercedes-Benz A 45 AMG doesn't shout too loudly about its performance potential. There's the obligatory sportier bumpers both front and back, and some shiny new badges, new wheels and painted brake calipers. But the overall result is a rather subtle styling upgrade which nicely suits the car's character.
The Mercedes-Benz A 45 AMG will make its world debut at the 2013 Geneva Motor Show next month.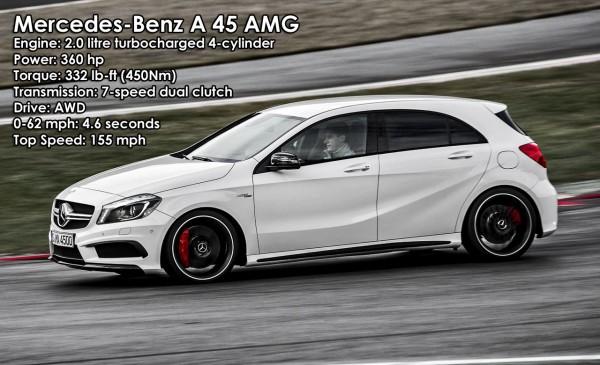 Mercedes-Benz A 45 AMG
Displacement
1,991 cc
Bore x stroke
83.0 x 92.0 mm
Compression ratio
8.6 : 1
Output
360 hp at 6,000 rpm
Max. torque
450 Nm at 2,250 – 5,000 rpm
Engine weight (dry)
148 kg
Maximum engine speed
6,700 rpm
Power density
181 hp
Peak pressure
up to 140 bar
Maximum charge pressure
1.8 bar
Fuel consumption
NEDC combined
39.7– 40.9 mpg
CO2 emissions
161-165 g/km
Emissions standard
EU6
Acceleration 0-62 mph
4.6 s
Top speed
155 mph*