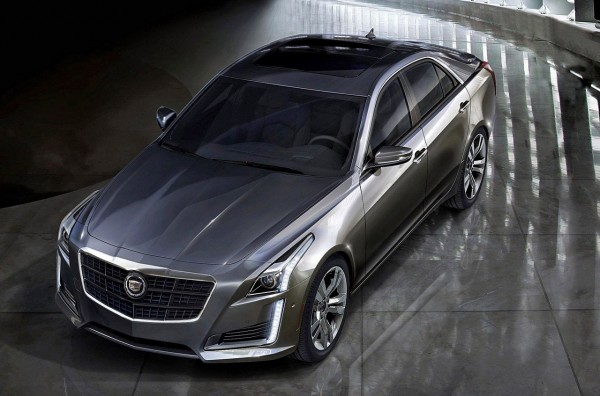 The Cadillac CTS is scheduled to be officially unveiled at the 2013 New York Auto Show (March 29 – April 7). However just ahead of its public debut it's made an appearance on the web. The 2014 Cadillac CTS continues the new design language which was introduced on the XTS and ATS. That means it's a little sleeker and less rigid than before. The headlights get the most significant revision and implement some stylish vertical LED running lights. There's something very Benz like about the new CTS – from certain angles anyway – but overall it wears the typical Caddy razor-like design very well indeed.
The inside is equally updated, with an all-new interior which revolves around a wide center console and large display screen. There's lots of plush leather and wood grain veneer giving the cabin an understated classy look. The dash cluster is a customizable LCD unit allowing the driver to select what data they see.

From launch there will be three different drivetrains on offer. The base engine is a 2.0 litre turbocharged four cylinder which produces 272 horsepower. Next is a 3.6 litre naturally-aspirated V6 which develops 321 horsepower. While at the top of the pile is a twin-turbocharged 3.6 litre V6 which manages to generate 420 horsepower. All three engine options come with an 8-speed automatic transmission. RWD is standard across the range, with AWD being an option for the two lesser powered engines.
Source: USA Today