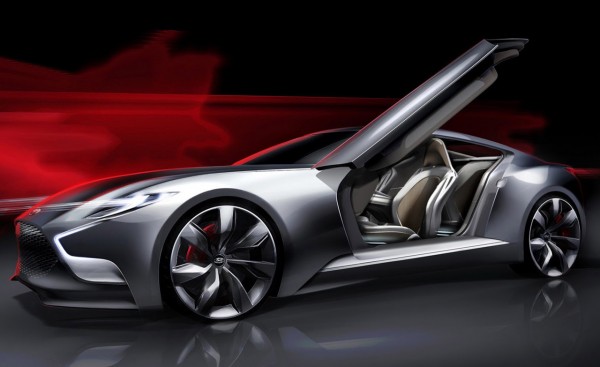 The Hyundai HND-9 concept was a design study of a high-performance sports coupe. The ninth concept model developed by Hyundai Motor Group's Research and Design Center in Namyang, South Korea, the concept made its world debut at the 2013 Seoul Motor Show.
The Hyundai HND-9 provided a glimpse of what the next generation Genesis Coupe could look like. With its Jaguar F-type-like swoopy bodywork and dramatic highlights it was certainly a looker. Something which is sure not to make any production model derived from the concept are the massive butterfly doors, which would surely be eschewed in favor of more conventional openings.

Hyundai say of the concept: "…the HND-9, with its dramatic long hood and wheelbase, is a modern reinterpretation of the elegant image of a classic premium sports coupe.
Fluidic yet sleek character lines that stretch from headlamp to trunk, voluminous, powerful car body and a striking, wide hexagonal-shaped radiator grille underscore the high performance image of the concept."
Powering the Hyundai HND-9 concept is a 3.3 litre turbocharged V6 engine which produces 365 horsepower. This is mated to an 8-speed automatic transmission driving the rear wheels.
Source: Hyundai