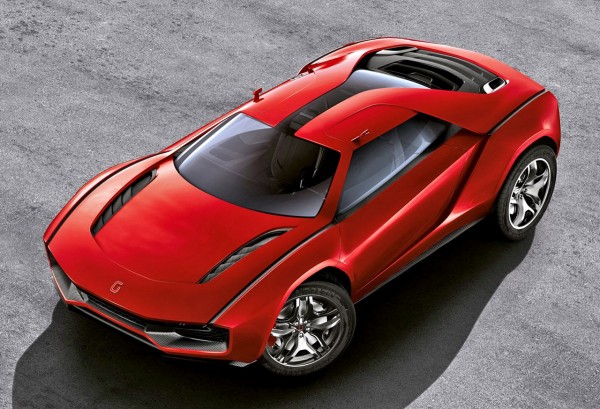 Italdesign Giugiaro surprised everyone at the 2013 Geneva Motor Show by showing up with this bizarre off-road supercar concept called the Parcour. The Parcour was a two-seater vehicle powered by a 5.2 litre Lamborghini V10 which channeled 550 horsepower to all four wheels, allowing for a 0-62 mph (100km/h) time of just 3.6 seconds, and a top speed in the region of 200 mph.
Key to the Italdesign Giugiaro Parcour's versatility and performance is a dial on the dashboard which is used to select the four different drive modes: Comfort, for a relaxed drive suited to city settings; Off-­‐Road for off-­‐road driving; Ice for winter conditions with poor road grip and lastly Sport, to unleash the full 550 horsepower. The electronic system adjusts the damping, ride height, and the engine setup.

On the inside the Italdesign Giugiaro Parcour features a minimalist interior with acres of bare carbon fiber on display. A multi-function LCD monitor provides information to the driver. The graphics and colors of the monitor change according to the driving mode: white for "Comfort", red for "Sport", orange for "Off-­‐Road" and blue for "Ice".
At first it was a little unclear what the Parcour is all about. Lamborghini had been trying to develop a more diverse lineup, experimenting with both the Estoque sedan and Urus SUV concepts. And clearly the Parcour had more than a few Lamborghini styling cues – not to mention that engine! But in the end it was Audi who showed interest in the concept, going on to develop the Audi Nanuk quattro concept.