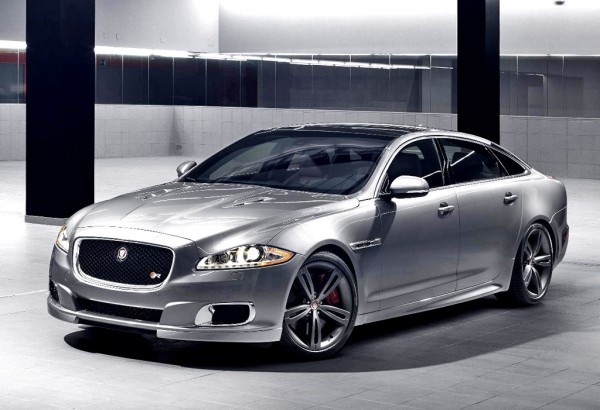 Jaguar decided to make a big splash at this year's New York Auto Show by revealing not one, but two high-performance models. We've already seen the hardcore XKR-S GT, but for those who like a little luxury to go with their performance, the XJR should be just the ticket.
With a 5.0-litre supercharged V8 engine delivering 550 horsepower and 502 lb-ft (680Nm) of torque, the XJR is the most focused, agile and responsive Jaguar XJ ever made. It's capable of sprinting from zero to 60mph in 4.4 seconds and on to an electronically limited top speed of 174mph (280km/h). An eight-speed automatic transmission, with a bespoke setup for the car, offers optimal acceleration throughout the speed and rev ranges while still retaining a civilised character for city driving.

Adrian Hallmark, Global Brand Director, Jaguar said of the car: "The new XJR epitomises the three pillars of technology, performance and seductive design which the Jaguar brand stands for in the twenty-first century, while delivering new levels of dynamic ability in a luxury saloon."
Highlights of the Jaguar XJR include a new front splitter and aerodynamic sill section combined with an additional rear spoiler and unique 'R' bonnet louvres, an Electronic Active Differential and Dynamic Stability Control systems which have been tailored to enhance handling characteristics, and new 20-inch forged alloy wheels wrapped in bespoke low-profile tires.
Buyers can choose from an exterior palette comprising ten colours: Polaris White, Ebony, Ultimate Black, Stratus Grey, Lunar Grey, Rhodium Silver, Cashmere, Caviar, Carnelian Red and Black Amethyst.
The exterior colors are complimented by a number of interior finishes, trims and colors. Jet leather trim is available with a choice of either Ivory, London Tan or Red Zone inserts on the seat facings. The seats themselves are embossed with the 'R' logo and can be finished with a choice of stitching in either Red or London Tan. Jet suedecloth headlining comes as standard with an optional leather headlining in Jet to complement the XJR interior.
The XJR is fitted as standard with a 380W, 12-speaker surround-sound system from Meridian. An optional 825W, 18-speaker system features Meridian's proprietary Trifield System which places every occupant at the centre of their own perfectly focused surround-sound arena.
Source: Jaguar