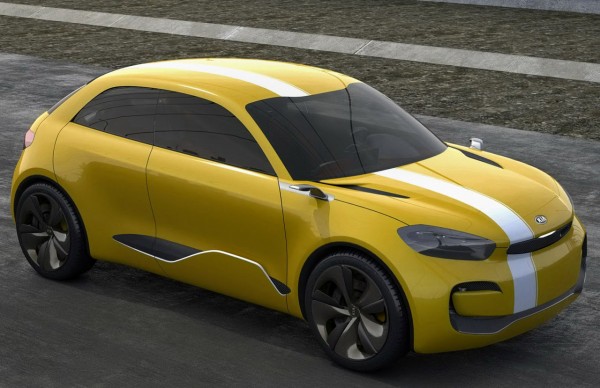 Kia presented the CUB concept on home turf at the 2013 Seoul International Motor Show. According to Kia, the concept is designed to appeal to city-living trend-setters. Large belt-buckle wearing stone-washed denim aficionados need not apply.
The Kia CUB is fairly compact, measuring less than 13 feet (4 metres) in length. It features a smooth, rounded body which is a little different to the more sharply styled recent Kia concepts like the Kia Provo and Kia Cross GT. Unfortunately Kia have succumbed to the now ridiculous habit car manufacturers have of calling their cars things they ain't. In this case Kia are describing the CUB as a four-door coupe. Well it's not. It's a hatchback.

But that doesn't mean its not a smart looking little vehicle. Sure it's not going to set the world alight or get hearts racing. But as far as compact little run abouts go it's not bad at all.
The super-smooth exterior, with its flush glazing, minimum-drag wing mirrors and automatic touch-type door handles, helps reduce aerodynamic drag.  A two-color paint finish with stripes hints at the CUB's sporty potential.
Powering the Kia CUB is a turbocharged 1.6 litre four-cylinder engine with direct injection. Good for 201 horsepower, the engine is connected to a six-speed manual gearbox. Performance for the Kia CUB Concept is decent. O-60 mph takes 7.7 seconds, and the top speed is a respectable 143 mph.
Kia were fairly honest about the CUB's production chances. Stating that there were no plans to put the car into volume production.
Source: Kia