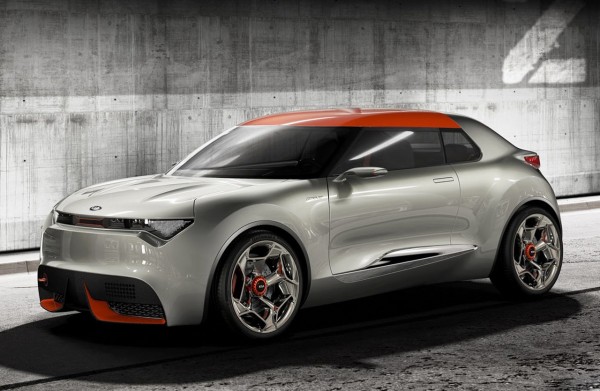 The 2013 Kia Provo concept was a proposal for a funky looking small coupe which featured a number of styling cues borrowed from contemporary and classic race cars.
Kia said the Provo was a "provocative and racy new urban concept car". They went on to point out that the Provo features a unique take on the company's trademark tiger-nose grille, by blending the grille and headlight assembly into one piece.
From the outside the Kia Provo is a rather tidy looking bit of kit. It's quite simple in its design, and looks quite sturdy and well planted. It has the feel of a MINI Cooper or Citroen DS3 Racing  about it – quirky but desirable.

Up front there's racing-style tow ring. Presumably that's there to give the concept a modicum of racing style – not because Kia expects it to break down on its way to Switzerland – and a couple of power bulges in the hood hint at the sporty little engine hiding underneath.
At the rear of the Provo, the taillights stand out from the  bodywork and their shape mimics that of the headlights and grille. Inset into the rear bumper are a pair of large round tailpipes.
Powering the Kia Provo concept is a hybrid drivetrain which combines a 1.6 litre turbocharged engine producing 204 horsepower with an electric motor driving the rear wheels. The 4WD hybrid can be operated in electric-only mode, or the electric motor can provide extra on-demand shove for things like overtaking. The Provo is fitted with Kia's first ever seven-speed DCT transmission.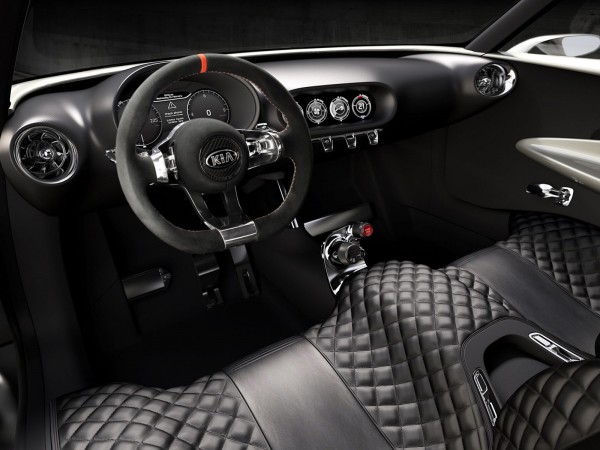 On the inside the Kia Provo really excels. It's simple yet stylish. And if it weren't for the Kia badge on the steering wheel it could easily be mistaken for belonging to any number of luxury manufacturers. I love the simple black and chrome retro color scheme and the diamond quilt upholstery. Again there's a few racing-inspired details, like the steering wheel center mark, bright red stop/start button, and passenger footrest. If Kia can manage to put an interior as stylish as this into a production car, then they really do have it made.
Gregory Guillaume, Chief Designer at Kia's European styling base in Frankfurt, said of the Provo: "The whole interior concept was designed around not having a big centre console, but instead using latest technology to provide excellent functionality in a clean, clear and attractive manner.
"By using a DCT gearbox we were able to get rid of the floor-mounted gear-shift and use paddles behind the steering wheel, which has blood-orange stitching and a race style straight-ahead indicator, allowing us to use the floor space for other controls resulting in a much tidier environment. And because the seats are fixed we have full electric adjustment for the pedal box and steering column – further simplifying the interior and giving a perfect-fit for any driver."
Source: Kia