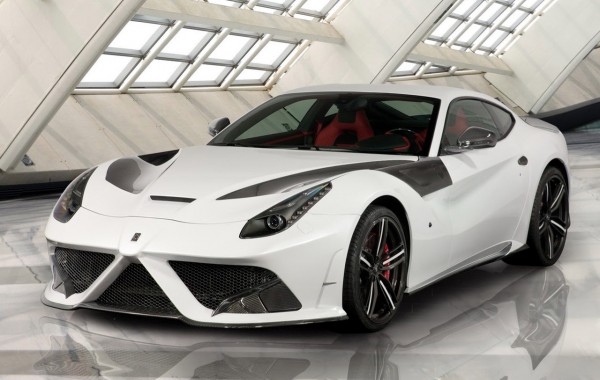 Mansory, that infamous German tuning company with a reputation for assaulting various supercars with their unique taste in colors and over-the-top body kits, is rolling into this year's Geneva Motor Show with what, for them, is a rather restrained creation.
Based on the Ferrari F12berlinetta, the Mansory Stallone features numerous carbon fiber components and body panels. There's a redesigned hood, front bumper, rear bumper, side skirts, rear diffuser, mirror covers, door handle covers and headlights. To top it off there's also a set of humongous wheels, which measure 21-inches up front and 22-inches at the back.

On the inside Mansory are up to their old tricks, wrapping the interior in eye-searing red upholstery, and painting red almost everything they can get their grubby little hands on. It's a wonderful homage to early '90s tuning, and should suit clients who typify the expression, "money can't buy taste".
In an attempt to redeem themselves, Mansory have made some effort to squeeze a little more go out of the Ferrari's engine. With the help of a new sports exhaust and a modified ECU, Mansory's engineers have managed to coax an additional 34 horsepower out of the engine, taking the total to 764 horsepower. Likewise peak torque has increased from 509 lb-ft (690Nm)  to 535 lb-ft (725Nm).
Source: Mansory