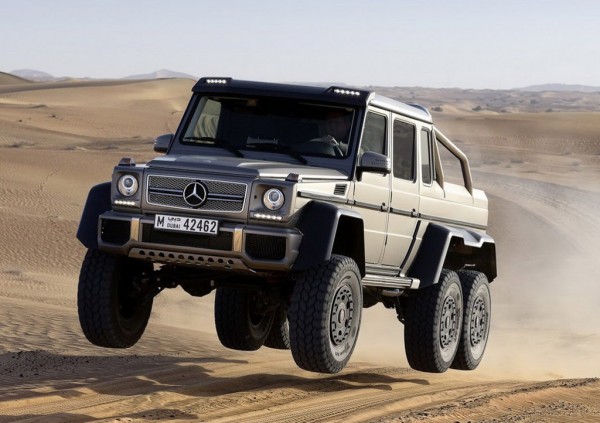 Have you ever felt that some vehicles try just too hard to be awesome. The Mercedes-Benz G 63 AMG 6×6 might just fall into that category. But don't let it find out you think that, or it'll grind you into the desert sands like a tyrannical dung beetle.
Everything about the G 63 AMG 6×6 screams excess. But that should go down well with its intended clients, and judging by the official AMG photos – which show the vehicle tearing up the sand dunes of Dubai while camels look on with indifference – it's pretty obvious who those clients are.
Powering the Mercedes-Benz G 63 AMG 6×6 is a 5.5 litre twin-turbocharged engine which puts out 544 horsepower and 560 lb-ft (760 Nm) of torque. The power is channeled through an AMG SPEEDSHIFT PLUS 7G-TRONIC automatic transmission to all six wheels. The drive system is derived from a 6×6 version which was developed by Mercedes-Benz for the Australian army.

Clearly, with such a armagedon-ready drivetrain the Mercedes-Benz G 63 AMG 6×6 has pretty impressive off-road performance. It's ludicrously high ride height allows it to traverse water over 40 inches (1 metre) deep without any problems, while its 37-inch tires allow it to comfortably crawl over rocks which would cripple your average 4×4.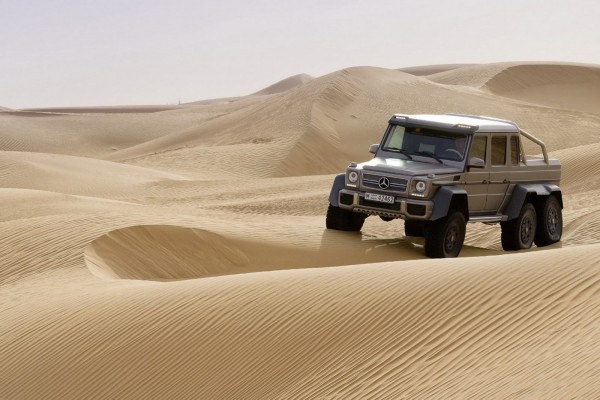 The Mercedes-Benz G 63 AMG 6×6 isn't just about rough-and-tough off-roading though. Climb inside and you'll find soft leather upholstery, four electrically-adjustable heated and ventilated thrones, and a comprehensive infotainment system with large multimedia displays. Even the load bay is built to impress. It's lined with bamboo and protected by a four-point chrome-plated roll bar.
In the words of Stewie Griffin; "It's good to have land".