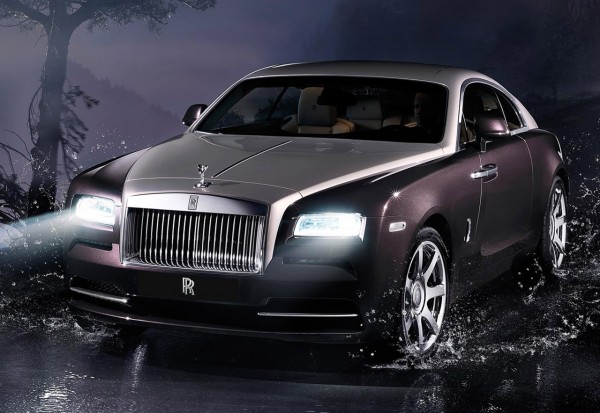 The Rolls-Royce Wraith is the coupe version of the Rolls Royce Ghost. It's been previewed a couple of times ahead of its Geneva Motor Show Unveiling, but nothing of substance. And now here it is in all its leather-lined glory.
The Rolls-Royce Wraith is the most powerful car the company has ever built. And that power comes courtesy of a V12 engine which produces 624 horsepower, and 590 lb-ft (800 Nm). The transmission is an incredibly fancy piece of technology which uses GPS mapping to ensure the correct gear is always selected for the road ahead! Basically it knows if there's a hill or a sharp corner coming up and if it should drop it down a cog to compensate. Now that's clever. Eerie. But clever. Performance-wise the Rolls-Royce Wraith offers a 4.4 second 0-60 mph time. But I think most typical Rolls buyers will be more interested in the built-in 'on-board valet'.

"Today we launch the ultimate gentlemen's gran turismo, a car that embodies the spirit of Charles Stewart Rolls," commented Torsten Müller-Ötvös, CEO Rolls-Royce Motor Cars. "The most powerful Rolls-Royce in history, Wraith promises the sense of adventure and speed that drove our founding forefather. But of course, Wraith's starting point is luxury, refinement and quality, traits that remain as important to Rolls-Royce customers today as they were more than a century ago."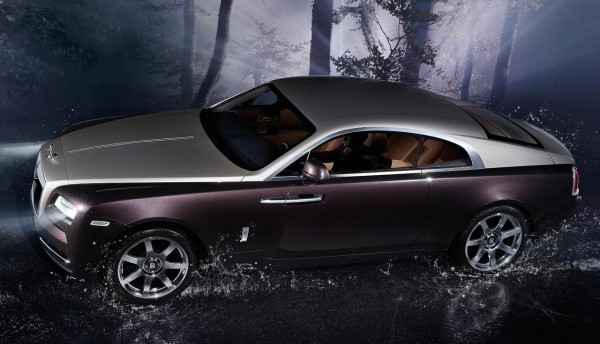 The exterior design speaks for itself. It's not curvaceous or svelte like an Italian luxury coupe. It's more imposing and stately. It's sheetmetal looks so thick and solid that it could withstand a direct hit from a Tomahawk missile, with the result being little more than a irritating door ding.
Speaking of doors, those on the Wraith are hinged from the rear. They open to reveal the expected super-luxurious interior, complete with softest "Phantom-grade" leathers and expanses of wood called Canadel Panelling. The interior also features a Starlight Headliner, a feature available beyond the Phantom for the first time. 1,340 fibre optic lamps are hand-woven into the roof lining to give the impression of a glittering, starry night sky.
The Rolls-Royce Wraith also features a heads-up display, adaptive headlights and Wraith's keyless opening boot. However Rolls-Royce are perhaps most proud of their improvements in voice activation commands, which have taken the human-machine interface to a new level of sophistication. They compare it to an on-board valet. Voice activation commands come with a one-touch call button located on the steering wheel. A destination no longer requires manual input from a navigation menu and route assistance begins immediately, on-screen and via audio guidance following a voice command such as "navigate to Piccadilly in London."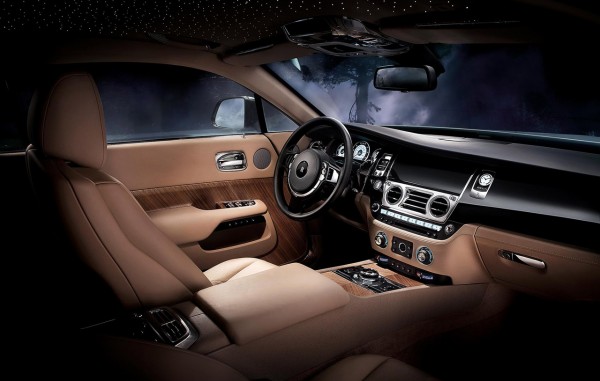 Additional improvements in communications come in the design and functionality of the elegant Spirit of Ecstasy Rotary Controller. This allows navigation through on-screen functions using a touch pad that features pinch and pull functionality to echo smart phone usage. Letters can also be 'drawn' onto the pad by hand rather than by scrolling through a series of available characters on-screen.
In Europe, the Rolls Royce Wraith will be priced from 245,000 EUR. Pricing for other markets will be revealed later in the year. The first deliveries to customers will be made in the final quarter of 2013.
Source: Rolls-Royce