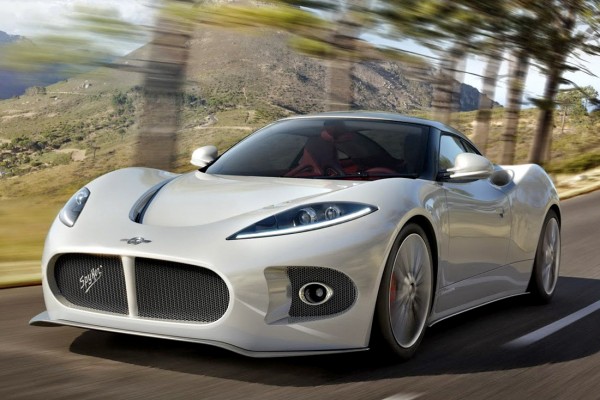 After a troubled few years, Spyker is finally back on track. The Dutch supercar manufacturer showed up to this year's Geneva Motor Show with an all-new car called the B6 Venator. It's smaller than the company's previous cars and carries and equally reduced price tag – that doesn't make it cheap however, it's expected to fetch somewhere between $125,000 and $150,000 when it goes on sale next year.
The name 'Venator' means 'Hunter' in Latin. The name recalls Spyker's roots as an aircraft manufacturer, and the Hunter was one of the fighter aircraft they produced in the early 20th century. As usual with Spykers there's a number of aeronautical-themed designed details throughout the concept. Not to mention that double-bladed propeller badge.
The Spyker B6 Venator is powered by a transverse-mounted V6 engine which produces 375 horsepower. Power is sent to the rear wheels through a 6-speed automatic gearbox. If 375 horsepower doesn't sound like a lot for a supercar in an age when 500+ horsepower sedans are readily available, that's because it isn't a lot. But Spyker have never tried to be the fastest or most powerful cars on the block. Their appeal comes from the fact they make extremely classy and stylish looking cars. They have been described before as being like a fine suit. You wear it to look good. Not to play sports.

Underneath the chiseled carbon fiber bodywork is and all-aluminium chassis. That helps keep things light, and the B6 Venator weighs in at 1,400 kgs. Not bad considering the levels of refinement inside.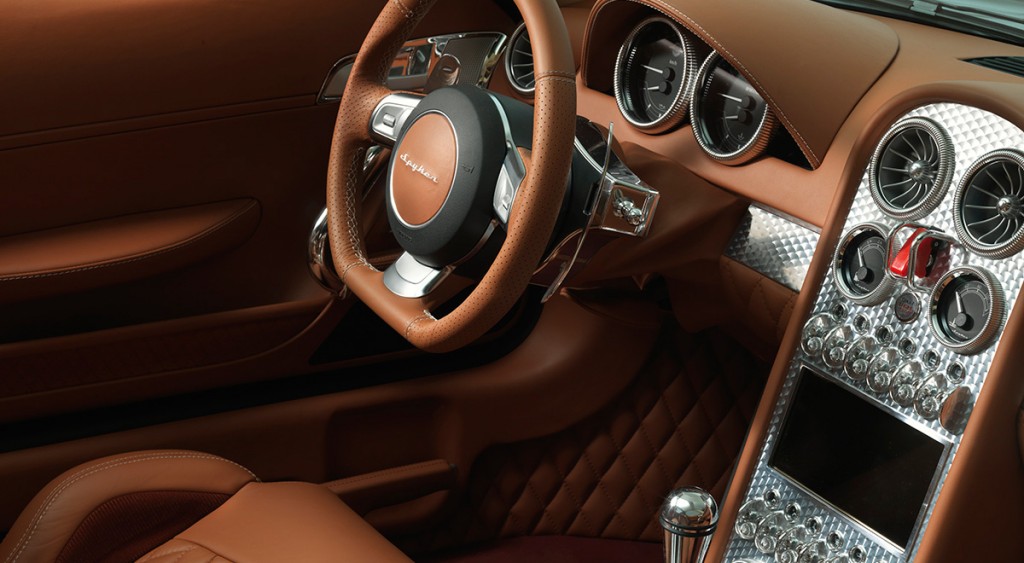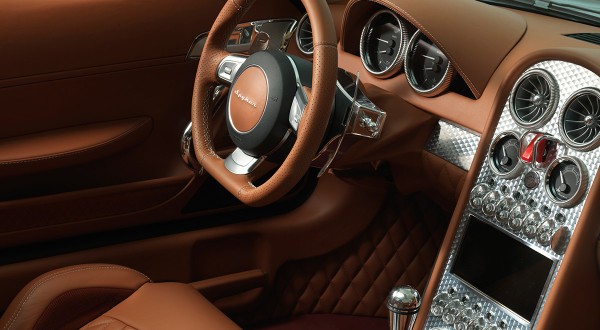 The aircraft-cockpit inspired interior of the Spyker B6 Venator features a number of bespoke elements which can be tailored to suit the buyer. Clients can choose from diamond stitched quilted leather or Alcantara suede upholstery with contrasting stitching. Leather and aluminium festoon the cabin meaning there's very few plastic elements to the interior. The bright red ignition switch sits in the middle of the center console and is the same type of safety switch used on many modern aircraft. Below it sits the starter button, you have to thumb both before the engine will start. Like previous Spyker cars, the B6 Venator features a gorgeous exposed chrome gear linkage. As an option Spyker offer a turned aluminium fascia for the interior paneling.
Spyker B6 Venator Specifications:
Body: All carbon fibre
Chassis: All aluminium platform
Engine mount position: rear-mid
Engine orientation: transverse mounted V6
Drivetrain type: RWD
Transmission: 6-spd automatic
Overall length: 4347 mm
Wheelbase: 2500 mm
Kerb weight: less than 1400 kg (3100 lbs)
The Spyker B6 Venator Concept will begin production in early 2014 for key markets including Europe, the Middle East, Asia Pacific and India, followed by the US in autumn 2014.