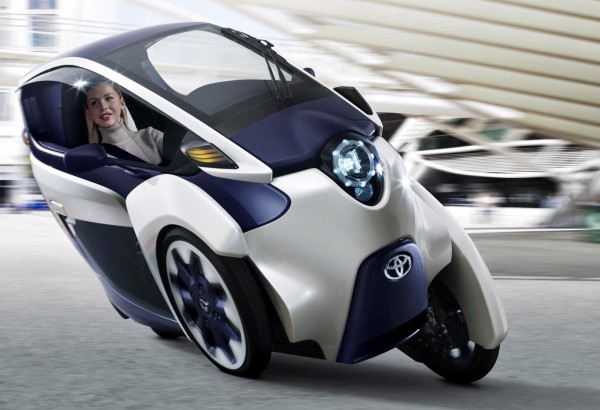 The Toyota i-ROAD is a compact, all-electric, three-wheeled, two-seater, personal mobility concept which was revealed at the 2013 Geneva Motor Show. Its compact size means it can carve through city traffic, and using Toyota's new 'Active Lean' technology it can balance itself in corners to provide better roadholding and more comfort for the occupants.
The tandem seating arrangement means the i-ROAD concept has a particularly narrow profile. The partially enclosed cabin means neither the driver or passenger need wear a helmet, and they're also reasonably well protected from the elements – although the lack of side windows mean it wouldn't be the most relaxing place to be in strong winds or blustery rain.
The two electric motors of the Toyota i-ROAD are powered by a lithium-ion battery. Mounted inside the front wheels, the motors provide enough power to keep up with the flow of normal city traffic. The battery can be charged from a conventional domestic power supply in three hours, and when full it allows for a limited, but still useful, 30 mile range.

Key to the i-ROAD's design is Toyota's new Active Lean technology. The system uses a lean actuator and gearing mounted above the front suspension member, linked via a yoke to the left and right front wheels. An onboard computer calculates the required degree of lean based on steering angle, gyro-sensor and vehicle speed information, with the system automatically moving the wheels up and down in opposite directions, applying lean angle to counteract the centrifugal force of cornering.
The super-compact i-ROAD measures 92 inches (2,350mm) long and 56 inches (1,445mm) high. It's most significant dimension, though, is its width: at only 33 inches (850mm), it is no wider than a conventional two-wheeler. Not only does this make for easy manoeuvring through congested traffic, it also means four can be parked in a single parking bay.
Source: Toyota