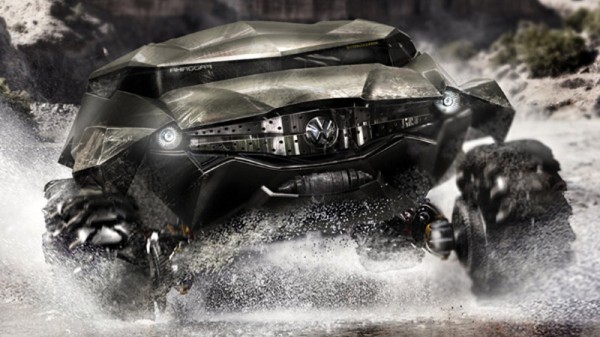 Now this is a weird one. Where to start? The ZAIRE concept is a truly mad creation which was formulated in the mind of designer Dong Man Joo. It carries a Volkswagen badge and it looks like a really angry snapping turtle. It's huge, standing at over 8 ft 2 inches (2.5 metres) high, yet it has the ability to crawl both up and along a 30-degree slope without toppling over.
It was created with the National Geographic in mind. Specifically their intrepid and adventourous photographers and cameramen. Every aspect of the ZAIRE concept has been designed to make their lives easier, and their shots better. It has a folding hydraulic arm built right into the cockpit which lifts the photographer up to a maximum height of 32 feet (10 metres). Without them even having to leave their seat!

The occupants have nearly 360 degrees of vision thanks to the hexagonal window positioning which was inspired by the design of bunkers or a hunter's hide. This allows the cameraman and his team to monitor wildlife all around them, without the animals seeing them inside. Although they might just spot the gigantic ZAIRE itself!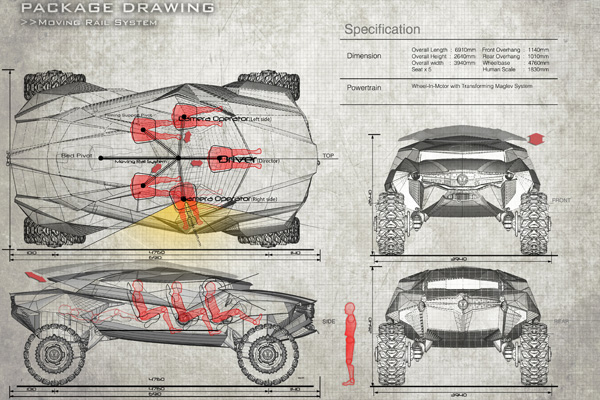 The interior of the VW ZAIRE concept has room for five occupants. The driver sits in a central position quite far forward in the vehicle. Behind him sit two camera operators – one either side, and behind them are two additional seats for anyone else who wants to tag along.
It's crazy. It's awesome. And it'll never get built.
Source: Dong Man Joo / Yanko Design