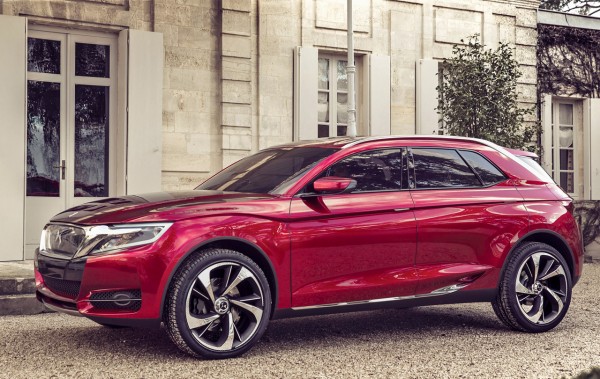 The Citroen DS Wild Rubis concept is a design proposal for a future DS-badged SUV model. The concept follows in the footsteps of the DS3, DS4, DS5 and Numero 9 concept. The DS Wild Rubis concept would be the first vehicle in Citroen's premium DS line to be something other than a hatchback or a family car. It's a decent size too, measuring 15.4 feet (4.7 m) long, 6.4 feet (1.95 m) wide, and 5.2 feet (1.59 m) high. Its relatively low roofline, for an SUV, and large 21″ wheels give it a more sporting character than most vehicles in the segment.
The styling of the DS Wild Rubis Concept was strongly inspired by the design of the Numero 9 executive sedan concept, especially in the way the headlights and grille have been merged together. Personally I think the Numero 9 has the edge over the Wild Rubis when it comes to style. But the Wild Rubis probably looks a little more production ready.

Design highlights of the Citroen DS Wild Rubis Concept include a roof rack which blends into the bodywork, a deep style line which cuts into the bodywork and connects the headlights to the taillights, and scrolling indicator lights.
The concept is designed to be powered by a full-hybrid drivetrain, although Citroen haven't gone into details.
The Citroen DS Wild Rubis Concept is scheduled to make its world debut at the Shanghai Motor Show later this month.
And just for fun here are some of Citroen's more irritatingly imaginative comments on the DS Wild Rubis concept:
"Wild and rebellious yet refined and sophisticated"
"DS Wild Rubis expresses power and strength, inviting onlookers to step inside"
"… a feature that gives the Wild Rubis a bold, hypnotic and unique stare."
"Just like a jewel, the glass of the rear lights is encased in chrome"
"The finely etched DS pattern fades away in the centre of the wheel, allowing the textured paint to stand out in all its splendour."
Source: Citroen