The 2013 Renault Sport Twizy F1 Concep was used to showcase Renault's F1-derived Kinetic Energy Recovery System (KERS), which allows the driver to call on a significant boost in power for a limited duration. In the Twizy F1 it raises the power output by a factor of six! Although sadly it only lasts 13 seconds. When it's engaged the Twizy F1 can out-accelerate most other cars on the road in the 0-60 mph sprint. Managing to accomplish the feat in around 6 seconds.

In terms of styling, the Renault Twizy F1 is as close to a Formula 1 car as you can get when your starting point is a poky-looking electric city car. Renault's designers have fitted it with a couple of massive spoilers – although the one at the front makes it look a little like a forklift truck. The wide side skirts are also a nod to the F1 car inspiration, but they've kinda ended up making it look like a high-powered lawn mower thingy.
The slick tires of the Twizy F1 are the exactly the same as used on the Formula Renaut 2.0 single seat race car. Meanwhile, the Twizy's rear seat has been taken out to make room for the KERS which is visible inside a transparent housing. Last but not least, the Twizy Renault Sport F1 is equipped with an F1-type steering wheel picked from the Renault Sport Technologies catalogue.
It's a bit daft, sorta pointless, and no doubt with all that F1-derived technology, hugely expensive for what it is. But in some strange way it's awesome.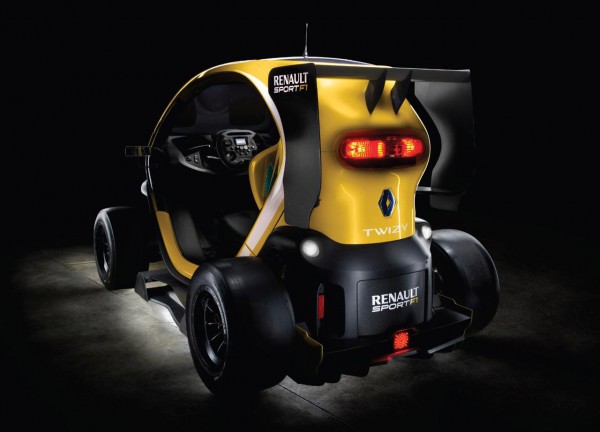 Renault Sport Twizy F1 Specifications:
Powerplants: 17 hp electric motor and 80 hp electric motor (KERS)
Batteries: Lithium-ion
Maximum rpm: 10,000
Maximum power: 97 horsepower
Power gain from KERS: 80 horsepower for 13 seconds
Maximum rpm with KERS: 36,000
Top Speed: 68 mph
0-60 mph: 6 seconds
Weight: 564 kgs
Power-to-weight ratio: 5.8kg : 1 horsepower
Source: Renault