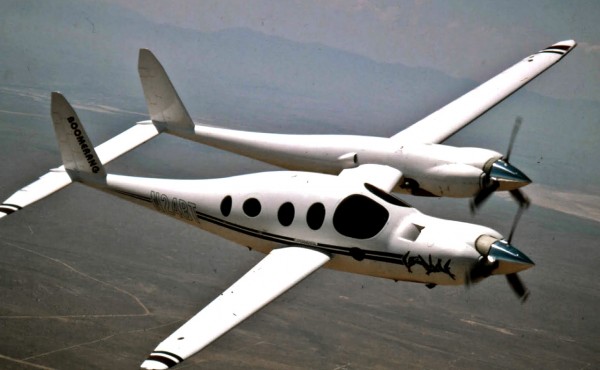 Burt Rutan, founder of Scaled Composites and all-round aeronautical genius/madman, is well known for designing aircraft which look almost incapable of flight, but somehow manage to perform as good – and usually better than – comparable more conventional aircraft. The 202 Boomerang from 1996 is probably one of the best examples of this.
The Rutan Boomerang was designed around the specifications of the Beechcraft Baron 58, a conventional twin-engined civilian light aircraft. However the asymetrical design of the Boomerang allowed it to fly faster and have a greater range than the Baron. Even though both aircraft used the same engines and could carry the same number of passengers.
Aside from the obvious, the Rutan Boomerang features a number of odd design choices. The left wing is nearly 5-foot longer than the right wing, however the rignt engine produces 10 horsepower more than the left! In addition the left side engine – mounted on the separate boom – is positioned 5-foot further back than the right-side engine.

The interior of the Rutan Boomerang is almost as bizare as the exterior. Up front the pilot and front seat passenger face forward – phew! But behind that the next passenger sits facing rearward. While on the other side of the cockpit and is the final passenger seat which again faces forward. The original instrument panel was a Macbook held in a docking station.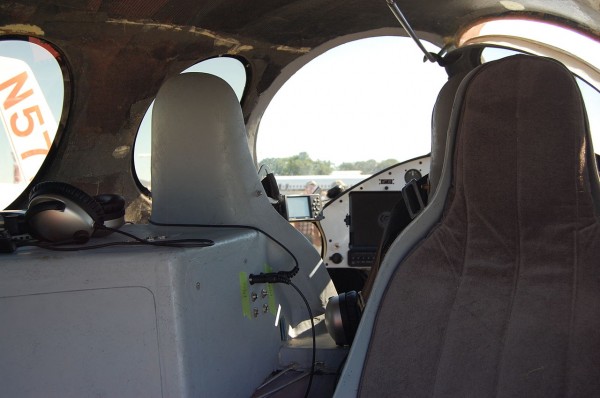 Amazingly, despite its wonky configuration, pilots who've flown the Boomerang say it's an extremley well balanced and has great handling.
Thankfully the Rutan 202 Boomerang is still flying today. It spent 9 years in storage at Scaled Composites, before a team led by Tres Clements, an engineer at Scaled Composites brought it back to airworthy condition in 2011.
Image credits: interior – Spartan7W, aircraft underside – Ken Mist.