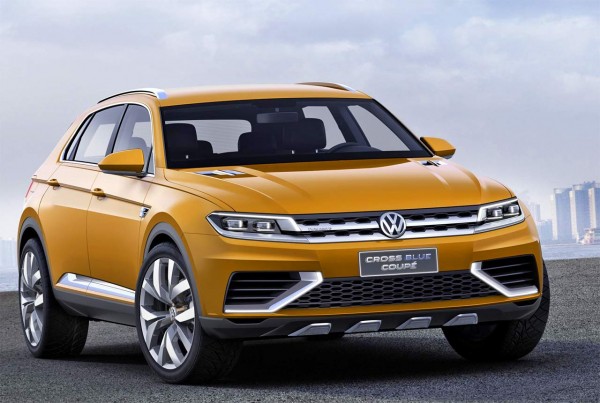 The CrossBlue Coupe concept, which was revealed at the 2013 Shanghai Auto Show was a follow up to the Volkswagen CrossBlue concept. However whereas the original CrossBlue was a hybrid-powered, practically-minded, sensible SUV, the CrossBlue Coupe was a bit more sporty.
The Volkswagen CrossBlue Coupe is a five-seater crossover with a wider and lower stance than its the original CrossBlue SUV concept. Sadly, as is normal for auto makers nowadays, the PR folks have conveniently forgotten what the word "Coupe" means, and wrongly labeled the concept as such. Probably in a misguided effort to make it sound more desirable than it really is.

The CrossBlue Coupe concept is based on Volkswagen's new Modular Transverse Matrix (MQB) architecture.  This would give any production version a large amount of flexibility when it comes to potential drivetrains. However for the concept VW have elected to fit a hybrid setup which matches a turbocharged, direct injection V6 engine with two electric motors (one at the front and one at the rear). Altogether the system produces a rather handy 415 horsepower. Allowing for an impressive 0-62 mph (100 km/h) time of just 5.9 seconds, and a 146 mph top speed.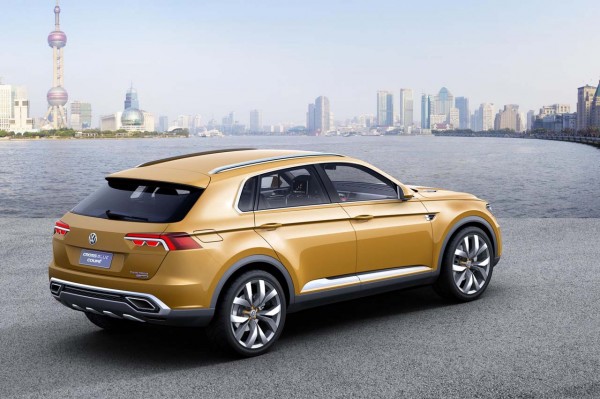 At the same time the hybrid drivetrain also offers frugal fuel consumption (3.0 l/100 km, or 94.1 mpg).  It can also operate under battery power alone for up to 20 miles (33 km). In electric mode, only the rear-mounted electric motor provides power, and it can propel the car at speeds up to 75 mph before the V6 kicks in.
Volkswagen CrossBlue Coupe Concept Specifications:
Power / Performance: 415 HP; 700 Nm (516 lbs ft); 0 to 60 mph estimated at 5.9 seconds
Dimensions: length 4,889; width 2,015 mm; height 1,679 mm;
Track widths: front/rear 1,709 mm/1,726 mm
Unladen weight: 2,220 kg (concept car with battery system)
Drive units / power: V6 TSI 220 kW; E-motors: front 40 kW, rear 85 kW; system power (TSI + battery) 305 kW
Transmission: 6-speed DSG
Battery: eight lithium ion modules; energy capacity 9.8 kWh
Source: Volkswagen