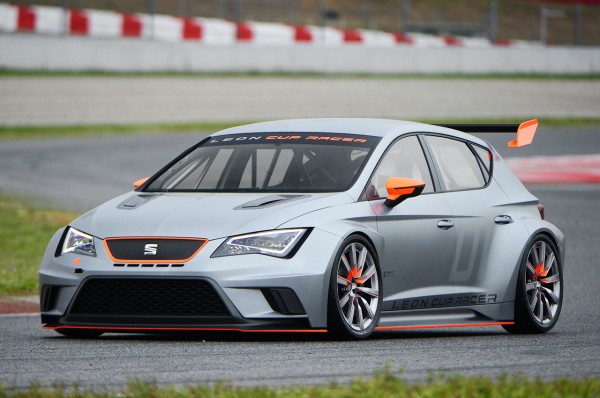 At this year's Worthersee Festival, May 17-19, SEAT will be showing off their all-new race car. Called the SEAT Leon Cup Racer, the brand new race car gives a pretty good indication of what a SEAT touring car racer might look like. The car is homologated to compete in numerous race series around the world, and is on sale now priced from 70,000 EUR ($91,000).
For your money you get a ready-to-run racer fitted with a 330 horsepower, 2.0 litre, four-cylinder, turbocharged engine. Power is sent to the front wheels through a six-speed DSG dual-clutch gearbox which is controlled via paddles on the steering wheel. A special variant of the Leon Cup Racer setup for endurance racing can be ordered with a sequential racing transmission with a shift lever on the centre console and a mechanical differential lock.

The Cup Racer, which is based on the five-door Leon, and for the Worthersee show car is painted in metallic matte grey with orange accents, certainly looks the part. The track is 40 cm (15.7 inches) wider than the standard car, and there are the obvious enhancements to the aerodynamics which are designed to improve downforce and provide additional cooling airflow to the engine and brakes.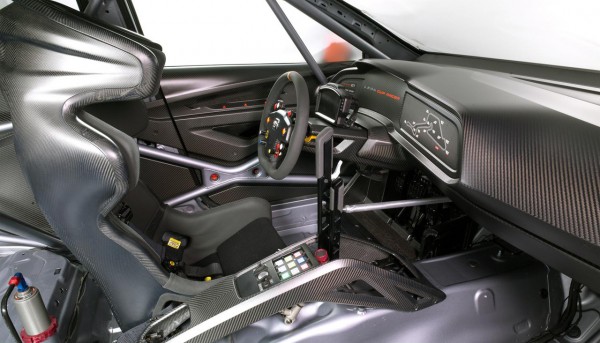 On the inside the SEAT Leon Cup Racer has been stripped of any superflous weight, before being fitted with a roll cage and a bucket racing seat with HANS head-protection system. Other racing enhancements include a multi-function steering wheel and high-resolution TFT digital display.
Jaime Puig, Head of SEAT Sport and responsible for the company's motorsport activities said of the car: "We expect to be able to offer the Leon Cup Racer to our customer teams as early as the 2014 season. With the two versions for sprint and endurance racing, the Cup Racer is ideal for an extremely broad palette of racing series – from the ETTC to the VLN Endurance Cup on the Nürburgring. We can also envisage further developing the Cup Racer to create a WTCC version with a 1.6-litre engine. After all, we have a great tradition to defend there."
The SEAT Leon Cup Racer equipped with DSG transmission will cost €70,000 ($91,000) (excluding taxes), while the endurance version with a sequential transmission and mechanical differential lock is priced at €95,000 ($124,000) (also excluding taxes).
Source: SEAT