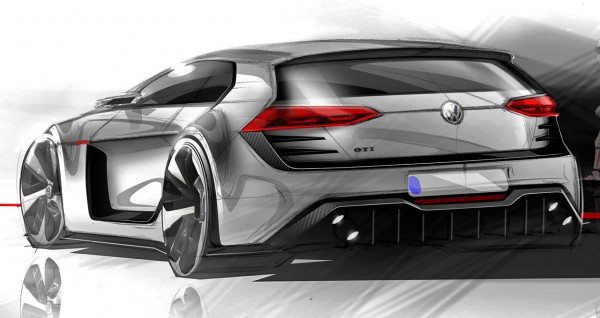 Volkswagen today published some sketches of a super high-performance VW Golf GTI-based concept car which they will be showing off at this year's Worthersee gathering in Austria where Audi/Volkswagen/Skoda fans get together to talk shop.
The Volkswagen Design Vision GTI concept is the most potent Golf-based vehicle since 2007, when Volkswagen introduced the GTI W12 650 concept, again at Worthersee. The Design Vision GTI is based on the recently-launched 7th generation Golf GTI, however the car has had so many modifications it's virtually an all-new car. It's longer, lower and wider than a standard GTI, while also having a longer wheelbase, wider track both front and rear, and shorter overhangs.

The bodywork has also undergone a fairly obvious metamorphosis, changing the typically restrained GTI's character into something much more head turning. The wheelarches are now so pronounced that the rear arches are literally popping off the car, allowing air to be channeled between the c-pillar and the rear side windows. Both front and rear bumpers have been changed for more aggressive units incorporating lots of carbon fiber elements.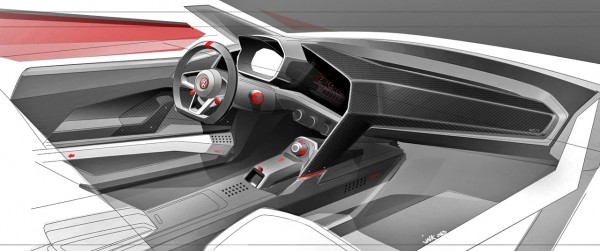 On the inside the Volkswagen Design Vision GTI Concept gets a simplified and pared-back theme. Volkswagen's Head of Interior Design, Tomasz Bachorski said he wanted: "Pure GTI.  Concentration on the truly essential.  But with style." Reflecting this desire, the interior features the minimum number of switches necessary, and those which there are have been angled towards the driver for optimum use when driving on the track.  A familiar black, red and white color scheme, touches of carbon and alcantara as well as a door handle in the shape of a red loop (reminiscent of that in Porsche Cup models) add to the race car feel.  The back seat space is occupied by an X-shaped cross member, adding to the car's overall stiffness.  Two black helmets are stored under the cross member. Additional features of the interior include a built-in dash cam, and a system which allows the driver to use social media from inside the car – because as we all know its perfectly safe to update your facebook status while driving…
And finally we come to the heart of the car. Powering the Volkswagen Vision GTI Concept is a turbocharged 3.0 litre V6 with direct injection. This engine produces 496 horsepower @ 6,500 rpm and 560 Nm of torque between 4,000 and 6,000 rpm. Power is sent to all-four wheels with the help of a DSG gearbox. The top speed hasn't been announced, but it can scoot to 62 mph (100km/h) in just 3.9 seconds.
No you can't buy it.
Source: Volkswagen
Related posts: