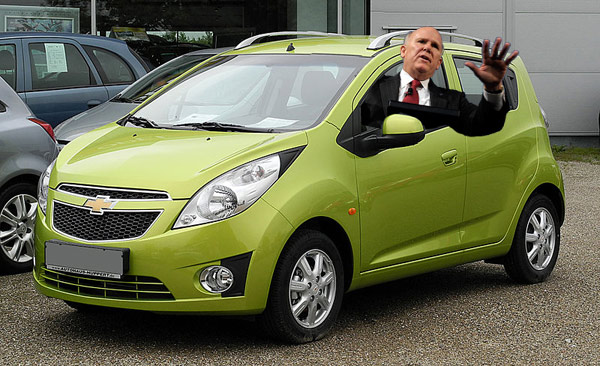 Hypothetical Question Time is a new feature we're trying out at diseno-art. It's pretty self-explanatory. We pose a hypothetical question related to vehicles and the industry. You let your opinions fly in the comments section. Or just pop in a quick one-click vote.
You know how as a promotional stunt, every now and then a CEO is seen driving the very best model of that company, on-track, off-track, off-road, or never mind what kind of road – as long as there's a crowd and enough journalists? Just now, I saw this youtube video where Ralph Gilles, the President and CEO of SRT has… a rather dull time with its own white SRT Viper. And, maybe out of envy, out of boredom or out of slow thinking, a question suddenly popped to my mind: Why do we never see the bosses driving their entry level vehicles in a video?!
Yes, you might say I'm envious, jealous or ill intentioned for thinking such things, but now I can't stop wondering  why the likes of Ratan Tata, Daniel Akerson or Sergio Marchionne haven't featured in videos driving a Tata Nano, a Chevy Spark or a Fiat Panda?! All these automotive bosses and other key staff, like design chiefs and lead engineers, are only seen driving the very best of the group. How can we trust them when they endorse a specific luxury/sport/premium vehicle, knowing that while the vast majority of us drive around in the entry level sedan or small car, they want us to hopelessly dream about cars that belong on the track, a private island or a luxury mansion?
Besides the obvious marketing, PR and other politically/corporate appropriate answers you might think of, there is the matter of ego. Every company is as big as its CEO, and he is as big as the thing he drives (at least in this industry) or is driven in. We understand that. But wouldn't it be really funny, and maybe even quite a savvy promotional move, if the key staff of major auto makers used (at least for a while) a real world car, one that would be bought by millions of its  clients and not just a few select?! And even more, wouldn't it be good for the business for everyone – top to bottom – to drive as a company car for a while every model of that company, even from the cheapest and low-ended brand?! We can imagine then a staff meeting with the board of directors where they discuss how big a Nano really feels, or how nippy in traffic the Spark is during rush hour or if a Panda really has the "wow" factor?!
So, if you can think of any ideas on the subject, feel free to let rip in the comments section. Who knows, maybe a PR guy will see all of this and persuade the bosses to try it! Or not.
Loading ...
Related posts: