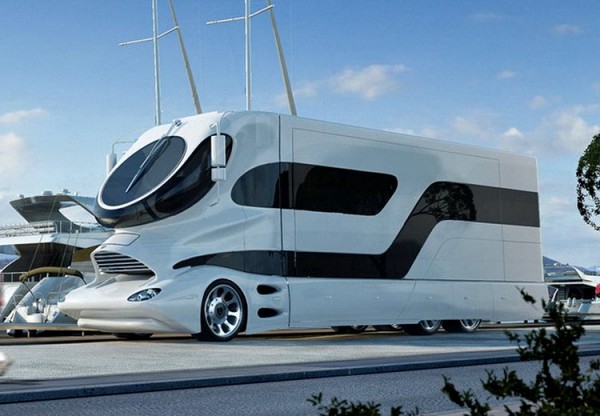 The Marchi Mobile eleMMent Palazzo is the most expensive RV you can buy. It costs an astonishing $3 million, and is said to be popular amongst filthy rich oil sheiks who take their "glamping" very seriously.
The eleMMent Palazzo – not sure what the double capital 'M's stand for – is built by the Austrian firm Marchi Mobile. Inside, the eleMMent Palazzo features all sorts of camping essentials like a marble lined master suite with shower and toilet, 40-inch tv, dining area and bar. To make extra space within the vehicle, one side of the eleMMent Palazzo slides out to nearly double the width of the interior space. On the outside, apart from the amazingly ugly face, the RV features must-have accessories like a barbecue, fireplace and one-button pop-up roof terrace.

The Marchi Mobile eleMMent Palazzo can waft its occupants down the road at 93 mph, presumably on the way to their waiting private jet ready to whisk them off half way around the world to their moored-up superyacht where they'll conduct a business meeting during which they'll plan their next imaginative way to crap on everyone else. Oh what would the world be like without fabulously wealthy and extremely privileged people born with a diamond-encrusted silver spoon in their mouth? In a word… Better.
Source: CNN via Carscoop